Estimated read time: 4-5 minutes
This archived news story is available only for your personal, non-commercial use. Information in the story may be outdated or superseded by additional information. Reading or replaying the story in its archived form does not constitute a republication of the story.
SALT LAKE CITY — Things just keep getting stranger as the countdown to the 2012 Summer Olympics nears its end.
As many in Salt Lake City can attest — and as Londoners are now finding out — hosting, or even attending, the Olympics comes with sacrifice. Public transportation is crowded. Restaurants are impossible. Everyone seems to be wearing the same outfit, and usually it involves a beret.
Designer Ralph Lauren already has infuriated members of Congress by offshoring the U.S. team's uniforms to China. Now, he has caused more head-scratching by including a classically French beret in the U.S. look, reminiscent of the Roots berets that infiltrated Salt Lake City in winter 2002.
Lauren's decisions have gotten attention from the West Coast to the East, and places in between. Fox News Channel criticized the move as being "too French," while many Americans simply wondered why the athletes weren't in American clothes, hold the beret — or, as Sen. Harry Reid put it, a "singlet that says 'USA' on it."
Forbidden listed expressions
List A
Games
Two Thousand and Twelve
2012
Twenty Twelve.
List B
London
Medals
Sponsor
Gold
Silver
Bronze
Summer
The Olympians won't be the only people getting attention for their clothing, though: new rules that have been put in place to protect Olympic sponsors will mean visitors to the park will have to watch what they are wearing.
Among what has been called the most stringent brand- protection legislation in Olympics history resides a law that allows for attendees to wear clothing featuring brand names that are not Olympic sponsors — as long as the attendees do not appear to be participating in an ambush marketing scheme.
Businesses find themselves in a more difficult predicament, though. Two acts of Parliament, passed in 1995 and 2006, protect various Olympic symbols and words from being used outside of approved instances.
The 2006 legislation riddles business owners by providing two lists of words. A word from List A cannot be used in conjunction with a word from List B, and two words from List A cannot be used together. And the fines can be hefty: the maximum fine for violating brand legislation is more than $31,000.
Further rules determine which types of sharing are permitted in Olympic Park: sending a picture to a friend is allowed, but if that "friend" happens to be the Internet, visitors are out of luck.
"A Ticket Holder may not license, broadcast or publish video and/or sound recordings, including on social networking websites and the internet more generally," the terms and conditions of ticket purchase read.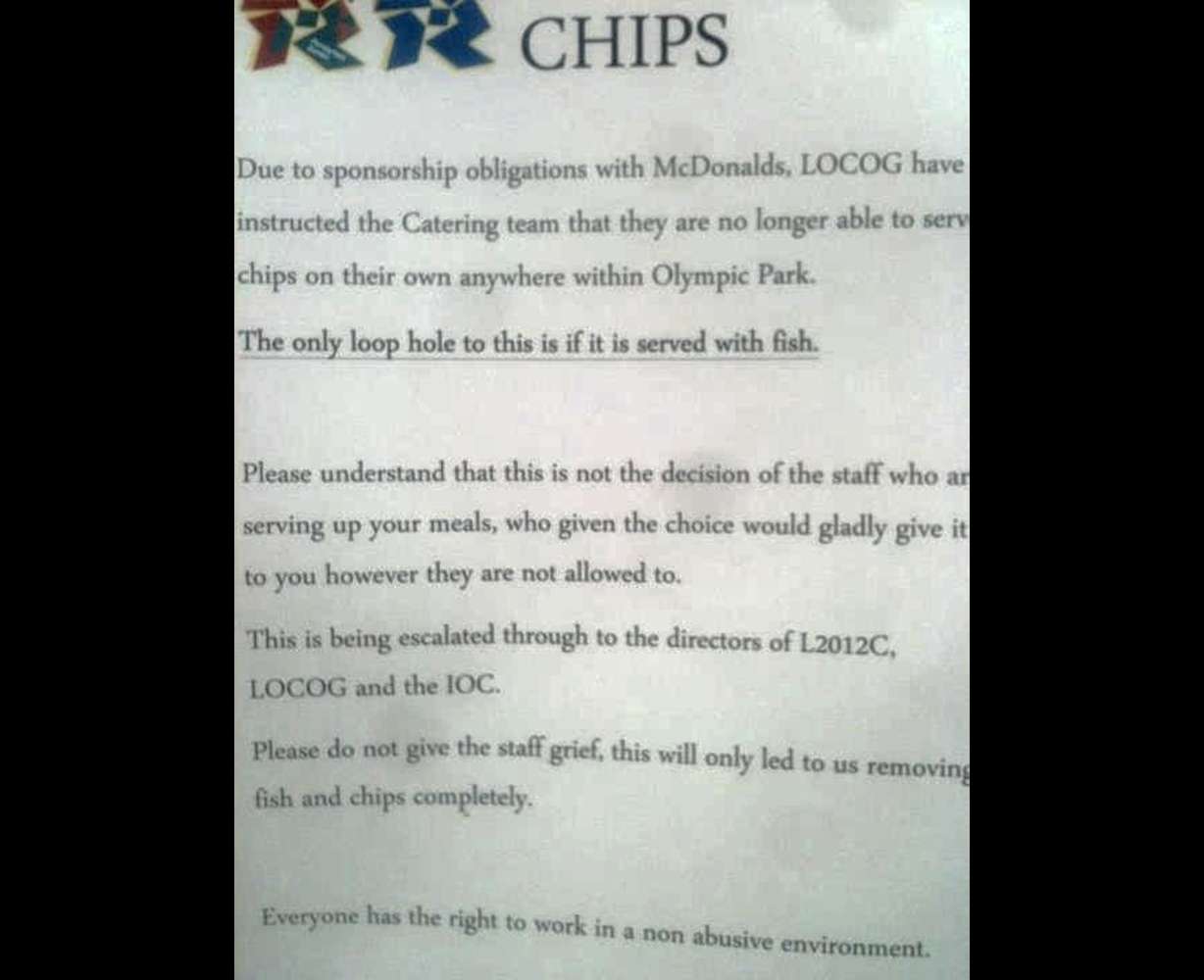 Social networking in restaurants is still OK, although those wishing to share pictures of their french fries on Instagram saw some disappointment last week, as reports surfaced that McDonald's had claimed to be the sole provider of french fries within Olympic Park.
According to an apologetic sign posted by the London Organizing Committee of the Olympic and Paralympic Games, exceptions would have been made to keep traditional British culture intact: restaurants with fish and chips on the menu would still have been able to serve the signature dish.
LOCOG has already been criticized for choosing McDonald's as a sponsor of an athletic event, and apparently, the fast-food restaurant took things a bit too far with it's claim. LOCOG reportedly had a talk with McDonald's, which gave up its deep-fried monopoly to keep the peace with the other 800 caterers in the park.
The french fry question was easily solved compared to the question of London's notoriously wet weather, though, which this year is too soggy even for Londoners.
The Times of London took to the editorial page in desperation Saturday to demand that the weather give the paper's eponym a break.
The city is currently sloshing through some of the wettest weather in recent history — a statement, for London. But the Times wasn't having it.
"Let us make our position crystal clear: We are against this weather," an editorial in the respected newspaper read. "It must stop raining, and soon."
×
Related links
Related stories
Most recent Utah stories