Estimated read time: 3-4 minutes
This archived news story is available only for your personal, non-commercial use. Information in the story may be outdated or superseded by additional information. Reading or replaying the story in its archived form does not constitute a republication of the story.
LEHI — From the freeway you can see the artistic vision of architects and engineers is beginning to take shape — an angular shell of what will be the state-of-the-art Utah home of software maker Adobe.
Adobe is spending about $100 million for its initial investment in the new Utah campus expansion. Currently 350 construction workers are on site daily, with more than 800 involved in the overall project. The company said it is injecting more than $5 million per month into the local economy during the construction phase.
Headquartered in San Jose, Calif., Adobe Systems Inc. was co-founded in 1982 by Charles Geschke and former University of Utah researcher John Warnock. The company develops multimedia and creativity software products.
Adobe has been in Utah County since October 2009 after the company acquired Orem-based Omniture for $1.8 billion. Adobe employs approximately 800 people in Utah and approximately 10,000 people worldwide. The Utah team focuses on product development, sales, marketing, as well as operations for analytics and online business optimization solutions.
The new technology campus began construction in 2011 and should be substantially completed by October, with occupancy expected in November. Employees at the existing site in Orem will be relocated to the new Lehi campus.
Currently, the company's facilities span approximately 150,000 square feet of leased property in Orem. But the new facility will offer 280,000 square feet of office and amenity space, said Brad Rencher, Abobe senior vice president and general manager for digital marketing.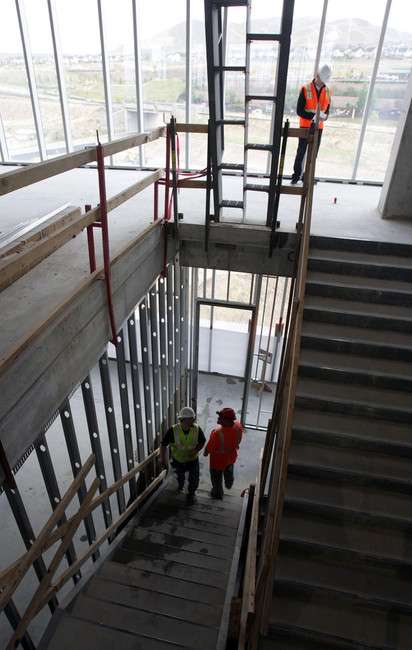 "The building is an embodiment of who Adobe is and the culture that we're looking to build," he said. "We wanted to bring the outdoors indoors by bringing in a lot of natural light so that our employees can have that collaborative work environment … they need and they desire in order to do their jobs."
The outside walls of the building will have floor to ceiling windows to allow full-length panoramic views of the surrounding landscape. In fact, the tall glass walls in the soon-to-be-built gym and atrium are designed to withstand 100 mph winds.
The building will also feature a cafe, an indoor full-sized basketball court, a gaming room called "the Bunker", an exercise facility including a yoga instruction room, a massage room and full locker room facilities.
Rencher said that the master 20-year plan for the campus includes additional phases which would increase the total space to more than 600,000 square feet — room for more than 3,000 employees.
The building is equipped with numerous efficiency measures to reduce water consumption and energy costs.
"The lighting is accommodating and complements what happens with the natural daylight," said Aaron Hall, project manager with Okland Construction. "The lights will adjust and dim (to ensure) the level of comfort for the workers is in line with what nature is giving you."
Rencher said the company's goal is to provide the best working atmosphere possible to stoke the creative and intellectual fires of its employees, helping the company reach further and higher in the ever-advancing world of technology.
"We see this as blending art and science," Rencher said. "Both sides are required to in order for us to do what we want to do."
×
Photos
Related Stories