Estimated read time: 2-3 minutes
This archived news story is available only for your personal, non-commercial use. Information in the story may be outdated or superseded by additional information. Reading or replaying the story in its archived form does not constitute a republication of the story.
Ed Yeates ReportingResearchers at the Mayo Clinic have successfully repaired insulation around nerves damaged by multiple sclerosis. And early experiments are now underway in Utah, where scientists are searching for the mechanism that can re-grow a damaged spinal cord.
At the University of Utah newts with severed spinal cords were paralyzed; they couldn't move their hind legs or lower extremities. But four to nine weeks later the spinal cords regenerated, regrown; so now those same newts are swimming and walking again.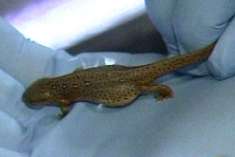 The newt can regenerate because of some very unique genetic components. The University of Utah team wants to know if those genetic components might do the same thing in a human some day.
A newt keeps that genetic mechanism all through its life. Mammals have it too but can only regenerate the spinal cord in the developmental stage, while still in the womb.
Dr. Shannon Oldelberg, with University of Utah Neurobiology, said, "So we're hoping if we can re-activate those latent processes that occur originally during development, we'll be able to get spinal cord regeneration to occur in an adult mammal."
While Utah scientists search for that trigger in newts, researchers at the Mayo Clinic announced they've successfully repaired damaged insulation around the nerves of a mouse by giving it low doses of a human antibody. That insulation protecting the nerves is called myelin, and it's what is destroyed in multiple sclerosis.
M.S. patients like Rachel Taylor say news of the successful Mayo experiment is extremely encouraging. "Beyond a shadow of a doubt I'm confident we're going to end this thing. We're going to end this thing in my lifetime," she said.
Rachel and others with nerve diseases and injuries are watching and waiting. Mayo researchers hope to propose human clinical trials of their myelin repair after perfecting the technique some more in animal experiments.
×
Related links
Most recent Utah stories