This archived news story is available only for your personal, non-commercial use. Information in the story may be outdated or superseded by additional information. Reading or replaying the story in its archived form does not constitute a republication of the story.
WEST VALLEY CITY — Hundreds of people have tuned in to YouTube to watch Samoana Matagi tie his shoes. Thousands have watched him shave.
That's because the simplest things are anything but for Sam.
He was a video editor and was having a hard time paying his bills. So he decided to become a power lineman, like his brother, Fatu Matagi.
In December 2010, he was on the job in Kremling, Colo. Sam was cutting a wire when it somehow came in contact with a live line above him.
More than 14,000 volts surged through Sam's body. Later, in the hospital, a doctor told Sam both of his hands would have to be amputated.
---
I'd say, 'I'm another dog,' you know? I laugh at it but that's how I felt. I felt like an animal.
–Sam Matagi
---
#matagi_quote
"I don't think it hit me then," Sam recalled, in a recent interview with KSL News. "I just said, 'OK, do it. Do whatever.'"
Where once he had hands, Sam now had hooks. He went home from the hospital, laid on the couch and, in a deep depression, he slept.
Unskilled at using his prosthetics and eating straight off a plate, Sam said he felt less than human.
"I'd say, 'I'm another dog,' you know? I laugh at it but that's how I felt. I felt like an animal," he said.
It was an invitation to a Jazz game that got Sam off the couch and out of his funk. At the basketball game, he went to the concession stand and was able to use his hooks to eat a hamburger without dropping a lot on the ground. For him, it was "a glimmer of hope."
Sam worked with his occupational therapist, Michelle Dincceco, to find new ways to do everyday tasks like cooking, eating and dressing.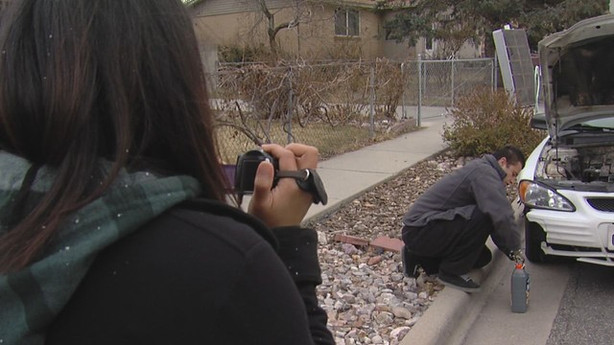 Looking for online videos, the two stumbled across someone selling a DVD for $40 — a price Sam thought was unfair. So, he decided to do something about it.
"He was gonna make a series of videos to put this guy out business, is how he framed it," Dincecco explained.
Using his own video recording skills, Sam began producing videos under the moniker "The No-Handed Bandit."
"Bandit is kinda like a Robin Hood bandit," he explained. "It's not really a bandit of things. It's bandit of knowledge."
Sam made a video about opening a jar; another one about how to shave. At first, Dincecco said, he tolerated some of the adaptive equipment but really wanted to do things the old-fashioned way.
He didn't want to use an electric shaver, so he taught himself to use a razor.
He didn't want to use elastic shoe laces, so he re-learned to tie his shoes.
He didn't want to use a zipper tie, so he figured out to tie a knot.
"Once I did that, I felt like, 'Oh, I think I can do anything,'" Sam recalled. "It's just a matter of thinking about it first."
On a trip to Samoa, Same even climbed a coconut tree. He made a video about that too.
Through all this, there's one person who's helped Sam like no one else could, someone who truly understands what he's going through: his brother, Fatu.
In August of 2008, Fatu Matagi was in an electrical accident and lost an arm. When Fatu got the news about his brother's 2010 accident, he rushed to be by his side.
"When he wakes up and he looks at his hands and they can't move, you gotta be there to say, 'Hey, dude, it's gonna be OK,'" Fatu said. "I mean, you might lose your hands, but you're not dead."
When Fatu had his accident and was in the hospital, Sam asked him if he should quit the lineman trade. "Don't quit," was the reply.
Now, for Sam , those words take on a different meaning. "Don't quit, to me, is don't quit living. Don't quit trying to do things the way you used to do it," he said.
Tying a tie, or shaving, or playing basketball; Sam says he experiences moments of life before the accident.
"These glimmers of the way things use to be, they give me the fire to keep going."
Email: prosen@ksl.com
×
Photos
Related Links