Estimated read time: 3-4 minutes
This archived news story is available only for your personal, non-commercial use. Information in the story may be outdated or superseded by additional information. Reading or replaying the story in its archived form does not constitute a republication of the story.
LEHI — A Lehi teen is making a remarkable recovery following a gruesome wreck a month ago.
Her family says the efforts of four men who stepped in right after the accident saved her life.
After pulling out of the parking lot at Lone Peak High School on Jan. 9, 16-year-old Janelle Read was attempting to turn left onto Lone Peak Parkway when a water truck fishtailed. The back end collided with the driver side of Janelle's van.
"I just remember getting out of my parking space," she said. "They said I was moaning and trying to move."
Dave Nelson and his brother-in-law, Mike Lamb, were two of four men who stepped in to rescue Janelle. They were just leaving a funeral when they came upon the accident.
"The whole side of the car, the picture doesn't even do it justice," said Nelson.
"I think all of us have a tendency to be like, 'That's none of my business. I shouldn't be getting in something I shouldn't be involved in,'" Lamb said. "But the thing I learned is that you need to get out and make sure people are safe."
---
But the thing I learned is that you need to get out and make sure people are safe.
–Mike Lamb, rescuer
---
#lamb_quote
With the help of another relative, Rich Stringham, they were able to break through a window and get Janelle out.
"These men have good, good hearts," said Stacy Read, Janelle's mother. "You can tell how good these men are just from jumping into action (at) a time that a stranger needs them."
Janelle's family is convinced that first, quick response by a few men is what helped her survive.
"Nobody else jumped in, just these four men," Stacy Read said. "Just comforting her and being there for her, I think, had a huge impact on taking care of Janelle and saving her life."
She was treated at Intermountain Medical Center for two weeks, half of that spent in intensive care. She had a fractured skull and shattered pelvis, but is expected to make a full recovery.
"It just brings me comfort to know that they'll always be there for people, and they were there for me, too," Janelle said.
On Wednesday, Nelson and Lamb met with Janelle at her home. She was in much better condition than when they first saw her while she was at the hospital.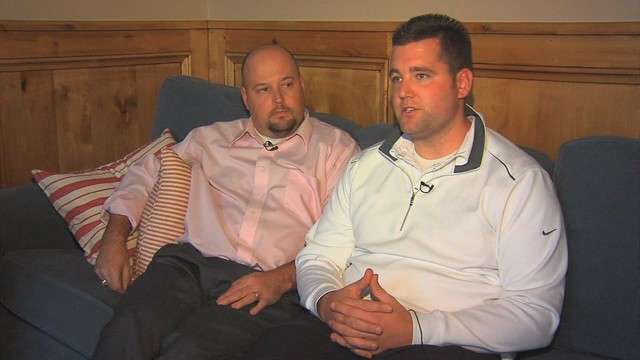 "To have her at that point, to now be able to see her smile and to be the Janelle that everybody else knows, we couldn't ask for anything more," Nelson said.
She also met Brandon Reynolds, a doctor who also happened to be there just in time. This was the first time he met the teen. He described how he was concerned about her breathing when he got to the scene. "There was guttural sounds to the breathing," he said. "It made me concerned that maybe her airway wasn't very protected."
Stringham couldn't make it to the reunion. He lives in California.
Janelle hopes to be in crutches in about a week. Lamb's family, is also putting together a 5K to help with Janelle's medical bills. It's planned for May 5 at Lone Peak High School. Send an email to jogforjanelle@gmail.com for more details.
×
Photos
Most recent Utah stories