Estimated read time: 4-5 minutes
This archived news story is available only for your personal, non-commercial use. Information in the story may be outdated or superseded by additional information. Reading or replaying the story in its archived form does not constitute a republication of the story.
SALT LAKE CITY — A former UTOPIA executive has filed a defamation lawsuit against the company, West Valley City Mayor Mike Winder and Deseret Digital Media stemming from an article Winder wrote under an fake name.
Chris Hogan, who served as the vice president of marketing, sales and business development of the fiber-optic network until March 2011, filed the lawsuit in federal court Wednesday. Hogan claims he was fired after expressing concerns over alleged bid rigging at UTOPIA.
Winder, as well as DDM and UTOPIA officials, all say the lawsuit is baseless.
Hogan claims the company found a way to award a bid involving $65 million to a company that was initially "disfavored" by UTOPIA, but employed the brother of Todd Marriott, UTOPIA's executive director, according to the lawsuit.
Hogan said he expressed his concern about the plan to UTOPIA's outside plant manager, who was in charge of the process. He said he was fired for voicing his opinion. Soon after, Marriott allegedly hired one of his neighbors to replace Hogan.
Days later, Winder asked for a meeting with Hogan, the lawsuit states. Hogan said he agreed to meet with Winder because he believed that as a mayor, Winder would provide a "safe haven" and would want to know about any potential wrongdoing.
Hogan said he expressed his concerns about the bid process and Winder, in turn, voiced concern and support. But then Winder asked Hogan to turn over his UTOPIA cellphone, leading Hogan to believe Winder had been sent by Marriott.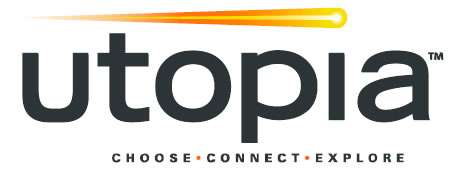 At the time, Winder was director of public affairs for The Summit Group, a public relations firm employed by UTOPIA.
"Instead of honoring his duty as an elected official, Winder used the information Hogan provided to him and conspired with UTOPIA to defame Hogan," the lawsuit states.
Hogan refused to sign his termination agreement and, according to the lawsuit, members of Marriott's staff told other employees Hogan had been committing crimes. UTOPIA accused Hogan of blackmail and extortion and asked for a temporary restraining order against him, the suit states.
The order was granted and the court records were sealed. When a judge later determined that Hogan was not attempting to reveal confidential information about UTOPIA, he declined to implement a preliminary injunction and the records were unsealed.
Hogan claims that move "destroyed UTOPIA's ability to control the information available to its stakeholders and member cities" and said the company feared losing $65 million in "taxpayer funded bonds."
Winder and UTOPIA executives decided to "use the media to handle any negative publicity," the lawsuit states. Winder allegedly said "he had the means through which he could publish an article to undermine Hogan's allegations."
---
You know, it's unfortunate, but the allegations are baseless and we'll fight them.
–Mike Winder
---
Hogan's case information was sent to Winder, who used the fake name Richard Burwash to write an article using court documents that had not yet been unsealed, according to the lawsuit. Winder later said he was only given the documents after they were unsealed.
Winder, using a fake name and profile, submitted the article to Deseret Connect, a freelance contributor network through which stories are submitted to its media partners.
The Burwash article was published on KSL.com, which is owned by DDM, under the headline: "Former UTOPIA contractor accused of extortion." The lawsuit states that the article reported that Hogan was fired for "performance issues" and had "exhibited erratic behavior."
Hogan claims the article "achieved its desired effect" and says his name and reputation were tainted. He said UTOPIA went on to receive the desired funds.
In the lawsuit, Hogan accuses UTOPIA, its various executives, Winder, DDM, The Summit Group and others of defamation, false light invasion of privacy and intentional infliction of emotional distress. He is requesting damages in the amount of $113,200, plus any additional amount as determined by a jury. He is asking that a jury hear the case and award punitive damages.
Winder responded to the lawsuit Thursday.
"You know, it's unfortunate, but the allegations are baseless and we'll fight them and I really can't say much more beyond that," he said.
Marriott said Thursday the lawsuit is nothing short of fiction and there is no truth to the claims of bid rigging.
"If I would have tried to strong arm the process to have the bid go that way, it would have been impossible," Marriott said. "The process wouldn't allow me to do that. I wasn't even the one making those decisions."
He added that Hogan was never fired by the company, but his duties were simply changed and he was asked to report to Marriott.
"Everything in that lawsuit is fairly fiction," Marriott said, noting that the company had "nothing to do" with what was published by Winder.
Matt Sanders, general manager of Deseret Connect, said Hogan's allegations "are without any legal or factual merit."
"Deseret Digital Media intends to vigorously defend itself and will be responding to Mr. Hogan's allegations in court," he said.
Email:emorgan@ksl.com
×
Related links
Related stories
Most recent Utah stories