Estimated read time: 3-4 minutes
This archived news story is available only for your personal, non-commercial use. Information in the story may be outdated or superseded by additional information. Reading or replaying the story in its archived form does not constitute a republication of the story.
OGDEN — Family and friends have gathered to pay their respects to slain Ogden police officer Jared Francom at a viewing Tuesday night for the public servant gunned down in the line of duty when serving a search warrant Jan. 5.
Fellow members of law enforcement came to give their brother a final salute, as well as countless family members and members of the community.
Family grateful for support, participation in services
Everyone attending the viewing has received a blue ribbon to wear in honor of Francom. His family says, since his death, they've been dreading this part of the week because it's so difficult to say goodbye.
Services for Jared Francom
Viewing:
Tuesday, Jan. 10, 5 p.m. - 8 p.m.
Myers Mortuary
845 Washington Blvd., Ogden

Funeral Service:
Wednesday, Jan. 11, at 11 a.m.
Dee Events Center
4450 Harrison Blvd., Ogden
CLICK HERE for driving instructions.

Graveside Service:
Ogden City Cemetery
1875 Monroe Blvd.
CLICK HERE for a map.
A hero — that's how Travis Francom wants his brother Jared to be remembered.
People who know and love Officer Francom say he was brave, generous and a good family man. He leaves behind a wife and two young girls, who are 3 and 5 years old.
His loss is felt by many. The family says support has been pouring in from all over the country, and they're comforted by that.
"Just feeling the love and prayers from everybody have been really nice for my family and I," Travis Francom said.
Since Friday, when Francom's body arrived at the funeral home, officers have stood by the casket 24 hours a day, a sign of respect for their brother. They'll stay with Francom until he's buried.
Members of the Ogden Police Honor Guard will also attend the viewing.
"We just take it for granted to these guys that put their life on the line every day," said an emotional Eric Smith, uncle of Jared Francom.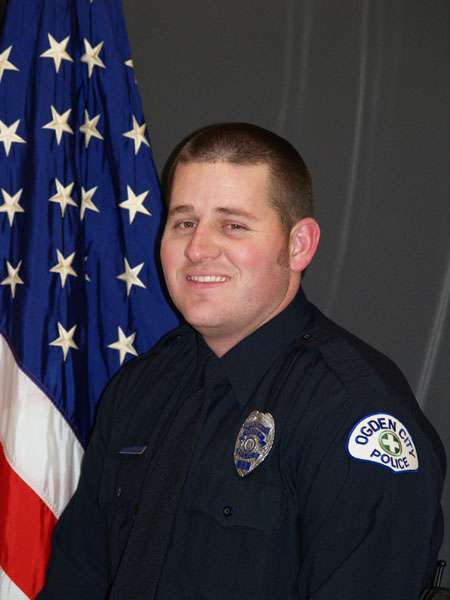 The viewing will be held at Ogden Myers Mortuary until 9 p.m. Tuesday. Funeral services for Francom will be held Wednesday at the Dee Events Center in Ogden beginning at 11 a.m.
Community working to show support at services
Both City and Police leaders have been working all day Tuesday to prepare for the funeral. They say the outpouring of support has been huge. In fact, several community groups have been working to give as many people as possible a chance to honor Jared Francom.
The Trapper Trails Council of the Boy Scouts will be lining the funeral route Wednesday. They'll hand out thousands of miniature American flags as the casket and family progress from the Dee Events Center to the Ogden City Cemetery. That procession is expected to start around 12:30 p.m. and go from the Dee Events Center, up Harrison Boulevard, across 30th Street,through downtown via Washington Blvd., and across 12th Street to the Ogden City Cemetery.
Boy Scout Executive Mike Marchese said, "We've had about three- to four- hundred people every day go to our website and contact us."
The Trapper Trails Council is looking for as many volunteer Scouts as possible to hold up flags along that route. They expect anywhere from 2,000 - 4,000
"We'll consider any amount a success," Marchese said. "We just want to be a part of it."
Related
Volunteer Mindy Skougard is coordinating an effort at the Ogden Amphitheater Tuesday night to make thousands of blue ribbons.
"It's hard to just sit here and shed a tear or change your Facebook profile picture. You want to do more, and you want to let them know 'thank you,'" she said.
The effort is part of the "Paint the City Blue" campaign organized in Francom's honor and on behalf of the five officers wounded Jan. 5. All the coordinators to whom KSL spoke report an outpouring of volunteers, and they're just trying to place them so everyone can contribute.
Jay Lowder, Ogden's public services director, says thousands of community members just want some role in the tribute.
"We're trying to make it available so they can participate the way they want to and show their support for the police officers and their families," he said.
------
Story written by Sandra Yi, Mike Anderson and Peter Samore.
×
Photos
Related stories
Most recent Utah stories