Estimated read time: 9-10 minutes
This archived news story is available only for your personal, non-commercial use. Information in the story may be outdated or superseded by additional information. Reading or replaying the story in its archived form does not constitute a republication of the story.
OGDEN — An emotional Ogden Interim Police Chief Wayne Tarwater summed up the feelings of police officers and the community Thursday:
"It's a very, very sad day for all," he said, fighting back tears.
Law enforcers across the state were in mourning Thursday following the news that one of six officers from the Weber-Morgan Metro Narcotics Strike Force shot while serving a search warrant Wednesday night had died.
Agent Jared Francom had been with the Ogden Police Department for seven years. He is survived by a wife and two young children.
Strike Force Commander Lt. Darin Parke called Francom an experienced agent who trained other people in the unit.
During an emotional press conference Thursday at the Ogden Police Department, police and city leaders talked about how the law enforcement community had lost a family member.
"This is a family. This is a law enforcement family. The law enforcement community is mourning," Tarwater said.
Officers shot while serving warrant
Francom and other members of the Weber-Morgan Narcotics Strike Force were attempting to serve a warrant about 8:40 p.m. at 3268 Jackson Ave. when a gun battle erupted.
Officers injured
Nate Hutchinson, Weber Co. Sheriff's Office
Shot 4 times (2 to the vest, 1 to arm, 1 to hip); in stable condition
Jason Vanderwarf, Roy Police Dept.
Shot in hip; treated and released
Shawn Grogan, Ogden Police Dept.
Shot in face; in critical condition
Kasey Burrell, Ogden Police Dept.
Shot in stomach, fragments in face; in critical condition
Michael Rounkles, Ogden Police Dept.
Shot in leg; in critical condition
Six officers and the alleged gunman were shot. The conditions of the five other injured officers range from serious to critical, according to the Ogden Police Department.
Those injured were officers Shawn Grogan, Kasey Burrell, Weber County Sheriff's Sgt. Nate Hutchinson, Michael Rounkles and agent Jason Venderwarf.
The alleged gunman, Matthew David Stewart, 37, suffered injuries that were not life-threatening, according to police, and remained hospitalized at Ogden Regional Medical Center Thursday under guard.
Grogan, Burrell and Rounkles were in critical condition Thursday afternoon at McKay-Dee Hospital, said spokesman Chris Dallin. Hutchinson was upgraded to stable condition. Vanderwarf was treated at ORMC and was later released.
At least 12 strike force members were serving a "knock and announce warrant," meaning they first knocked on the door to announce their presence and then entered if no one responded.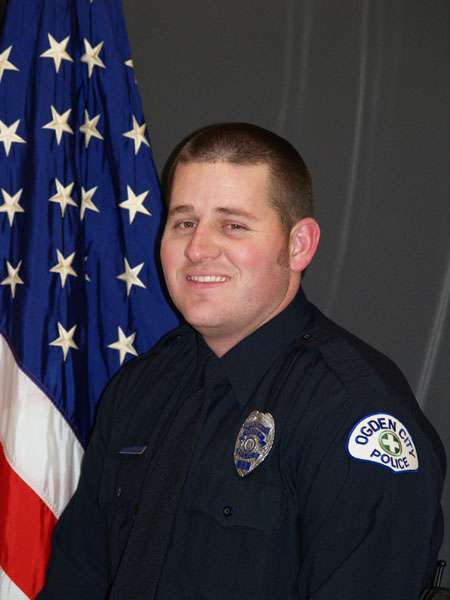 "When they entered, they came under fire," Tarwater said.
"There was not a great deal that set this investigation apart from other similar investigations like this," Parke said.
Bullet proof vests are common practice for officers serving search warrants. It is assumed the officers were wearing them Wednesday night, but investigators would not say on Thursday.
Dallin declined to release any details about the nature of the officers' injuries, saying he had not been authorized by family members to go into details. "As you can imagine, these families have had a rough night," he said.
But according to a law enforcement source, Grogan was shot in the face through the cheek; Burrell was shot twice, once in the stomach and his face was hit with fragments; Rounkles was shot in the leg and the bullet was still lodged inside; Hutchinson was shot four times, twice to his vest, once to his arm and once through his hip; and Vanderwarf was shot in the hip.
"We've never had this many officers come in at the same time," Dallin said, adding that all available critical care staff responded to the hospital to assist.
Suspect was self-medicating, father says
Stewart's father described his oldest son as having mental problems and said he was "self-medicating" with marijuana.
"We were concerned for him. But there was just nothing we could do for him. He wouldn't have anything to do with his mother or his father," Michael Stewart told the Deseret News Thursday.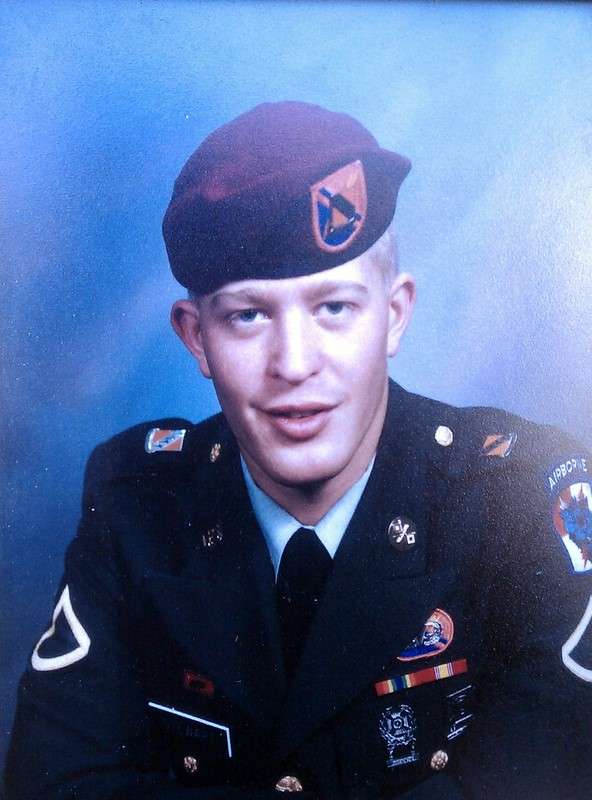 He said his son has been estranged from his family for several years.
Army spokesman Troy A. Rolan Sr. said from the Pentagon that Matthew Stewart joined the Army in July 1994 and was stationed at Fort Bragg, N.C., until January 1996. Stewart was then assigned in Germany until he was discharged in December 1998. During his service, Stewart maintained communications equipment and received the Army Achievement Medal and the National Defense Service Medal.
Rolan said Stewart's service came between the two wars in Iraq and that the soldier was never on a battle deployment. Despite that, Stewart's father said his son was a "different person" after his military service and acted like he had been in combat.
Weber County Attorney Dee Smith instructed investigators not to discuss details about the case pending an internal and external investigation being conducted by the Weber County Sheriff's Office. Officers could not answer questions about whether the gunman was barricaded, what kind of weapons he had nor whether Francom was first inside the home when police entered.
When asked about the potential charges the gunman might be facing, Smith became choked up, and said his office would be filing the appropriate charges as the law allows.
"We have an officer who is deceased. ... Until we have the investigation completed, I'm not going to say exactly what he's facing, but we have an aggravated murder as well as a bunch of attempted aggravated murders."
The man arrested was identified as Matthew David Stewart, 37, whom Tarwater described as having a "limited" criminal history. A search of Utah court records indicates he has a misdemeanor conviction of driving without insurance in 2005 and a seat belt violation in 2004.
"We will grieve this loss, knowing officer Francom laid down his life for his friends and his community," added Weber County Sheriff Terry Thompson.
"As the chief who hired each of these officers over the last 16 years and has worked with them on a daily basis, this is a very sad day of my life," said former Ogden Police Chief Jon Greiner. "These were wonderful men who have given their all and they rose their right hand to God and said that they would support and defend the Constitution and they were doing that for the safety of our community last night."
Facebook User Comment

Our prayers go out to the families of these brave men. -- Michel J. Erdmann
At McKay-Dee Hospital Wednesday night, between 40 to 70 law enforcers from across northern Utah to offer support to the families of the officers involved.
Roy Police Chief Greg Whinham asked everyone in Utah to remember the sacrifices law enforcers everywhere make every day as well as the sacrifices made by their families that go unrecognized.
Wednesday was also the first full day on the job for new Ogden Mayor Mike Caldwell. He said he was with some of the officers' families when a doctor came in to deliver updated news. He called the experience "crushing."
"This is a one of a kind, one in a billion event that happened to be in our community," he said. "It's just terrible circumstances. Our thoughts and prayers are with the families."
Caldwell said grief counselors had been made available to officers since last night as well as other support as needed.
"It's a full court press from everyone on the city level," he said.
Witness accounts
Witnesses said they heard three quick pops followed by a two- to three-minute pause, then more gunfire.
"I was sitting in the front room watching TV, heard three pops. My fiancé asked if they were fireworks. I said, 'No, those are gunshots,'" said resident Clayton Payne. "I ran out here to see what was going on and I was escorted back to my house by the cops. They said, 'Get in your house. Get down.'"
---
A candlelight vigil will be held for Agent Jared Francom at the Ogden Amphitheater (343 E. 25th Street) tonight at 6:30.
---
Stewart was reportedly arrested in a nearby shed, but officers would not address details about that on Thursday.
Matthew Stewart was working graveyards at Walmart and was likely sleeping when police arrived at his door about 9 p.m. Wednesday, his father said. He said he believes his son probably reacted the way he did because he saw people in the house where he lives alone.
"I don't know that he had the intention of shooting any police officers," he said, adding he didn't know his son had any guns.
"We're very upset about this," Michael Stewart said. "We're upset that an officer was killed."
Stewart said he believes his son was growing marijuana only for himself.
"He didn't want to get involved in the drug system, the illicit drug trade," he said.
Matthew Stewart, he said, has "mental difficulties" and is very shy.
"We're praying for him," he said. "Maybe he'll get the help he needs now."
Neighbors said they rarely saw Michael Stewart outside of his home.
"I had never met Matthew before," said Matt King, a neighbor. "It seemed like he kept to himself."
King, who lives five houses down from Stewart, said he clearly heard shots during the 10- to 12-minute gunfight. Yellow crime tape still blocks off a wide area around the crime scene.
A couple of employees at Walmart in Riverdale, where Stewart worked overnight shifts, told the Deseret News they either did not know him or were instructed not to talk about him. A call to a corporate spokesperson was not immediately returned.
Flags in Ogden were ordered to fly at half staff Thursday and Utah Gov. Gary Herbert said he'll order all flags throughout the state at half staff on the day of the funeral.
"It really is a tragic situation. It gives us all pause," Herbert said. "Today I know we're united in mourning this incident, particularly with the loss of Jared Francom and his family and what they're going through."
Herbert met with some of the family members of the wounded officers Thursday. "Their medical outlook looks at least somewhat positive," he said.
"They are surprisingly upbeat, the families I met with," the governor said. "I think they are proud of the service their loved ones have given."
The governor said Utahns' support and prayers should be with the Francom family, the other officers suffering with injuries, and the medical teams that are working with the injured, whose futures and families are also impacted. "We don't know what their condition will be."
"We're going to offer state support" in the investigation, Herbert said. "Let's all work together to make this situation the best it can be under awfully difficult circumstances."
A makeshift memorial with flowers and and candles was erected outside the home where the shootings occurred.
At note placed at the memorial said: "Thank you agent Jared Francom for your sacrifice and unwavering heroism in the line of duty. You will not be forgotten. And may God bless your family and loved ones in their time of needs."
*Accounts are set up in each of the officers' names at the Bank of Utah. All funds raised will go directly to the officer to whom the funds were donated.
Individuals that would like to donate to any of these officers can go to any Bank of Utah location and provide the name of the officer(s).
*Ksl.com has not verified the accuracy of the information provided with respect to the account nor does ksl.com assure that the monies deposited to the account will be applied for the benefit of the persons named as beneficiaries. If you are considering a deposit to the account you should consult your own advisors and otherwise proceed at your own risk.
----
Contributing: Wendy Leonard, Steve Fidel, Dennis Romboy, Hunter Schwarz
Email:preavy@ksl.com
----
×
Photos
Related links
Related stories
Most recent Utah stories