Estimated read time: 4-5 minutes
This archived news story is available only for your personal, non-commercial use. Information in the story may be outdated or superseded by additional information. Reading or replaying the story in its archived form does not constitute a republication of the story.
UTAH STATE PRISON — Three men convicted of severely beating DJ Bell and his partner three years ago have been granted parole.
Ricky Peace, 35, Ieti Mageo, 34, and Letitaia Tavita Nuusila, 27, will each be released from prison in consecutive years beginning in 2012. The Utah State Board of Pardons and Parole granted parole to Nuusila starting in December 2012, Peace in December 2013, and Mageo in December 2014.
Parole may be granted for Peace and Nuusila a couple of months earlier if they complete substance abuse treatment programs in prison.
Each man was sentenced earlier this year to up to five years in prison after pleading guilty to reduced charges of aggravated burglary, aggravated assault and rioting, all third-degree felonies, in the high-profile case. They were sentenced to zero to five years for each count, but 3rd District Judge Randall Skanchy ordered the sentences to be served concurrently.
Tuesday, Bell told the Deseret News he was intially disappointed with the parole board's decision after mis- reading their release dates, but later clarified that he was actually "thrilled."
"I'm very happy with the board's decision," he said noting that "justice had been served."
Bell said serving long prison terms would not have helped to reform the men involved. But by giving them two or three years so they can continue receiving counseling while incarcerated will give them more of an opportunity.
During his parole hearing at the end of September, Peace — while calling his own actions "inexcusable" — also made statements that Bell shared blame for what happened and should have been convicted.
"He believes it's a game. He knows he got away with one that he shouldn't have," Peace said.
"Mr. Peace is a joke," Bell replied Tuesday. "This is not a game. My life was nearly taken from me."
On the morning of July 4, 2008, the three convicted men were having a party with relatives and friends next door to the South Salt Lake home of Bell and his partner, Dan Fair. All three men admitted they had been drinking heavily that night. Nuusila alone said he had consumed about 30 beers.
Peace's 4-year-old son and 2-year-old niece were found in the open doorway of Bell's house by Tapululululu Latu. The children were not harmed.
But after Latu grabbed the children, she warned Bell and Fair to "lock your doors." Moments later, a group of angry partygoers from next door broke into Bell's house and severely beat the two men.
Bell suffered a brain injury and has permanent partial hearing loss because of the attack. Fair had a television smashed on his head, crushing his right eye socket. He still does not have a tear duct in that eye despite facial reconstruction surgery.
Initially, Bell was arrested and charged with kidnapping, accused of taking the children to his house. But he said they wandered unsupervised over to his home seeking shelter.
Bell was acquitted at trial. After his acquittal, the Salt Lake County District Attorney's Office charged the group that assaulted Bell and Fair.
Bell said Tuesday he and his partner have moved on with their lives and don't think much about the men convicted.
"At this point in my life I just can't care anymore. Their lives have nothing to do with mine. I don't think about them. I don't care about them. I'm happy," he said.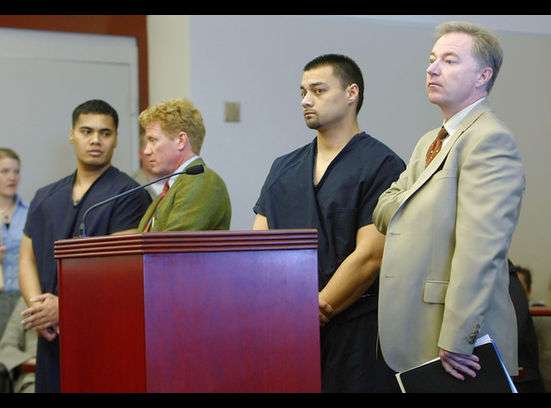 Bell and Fair moved to Seattle shortly after Bell was acquitted. He said both of them have been doing much better since then. Bell has 10 months left of school before graduating with a degree in architecture and design.
"Life is going incredibly well," he said.
The past week, however, has been tough on Bell. His father recently died. He said while life is about growing and learning and moving on, he wasn't sure how he was going to move on from the loss of his father whom he called his "hero."
As for the 2008 attack, Bell said he and Fair were healing. "The emotional is getting better," he said.
Physically, he said they both have scars they have to look at everyday, "but it's not something that's going to shake me or make me less of a person.
"I've moved on and I'm happy. Thinking about them doesn't make me happy so there's no point in it."
Email:preavy@ksl.com
×
Photos
Related stories
Most recent Utah stories