Estimated read time: 2-3 minutes
This archived news story is available only for your personal, non-commercial use. Information in the story may be outdated or superseded by additional information. Reading or replaying the story in its archived form does not constitute a republication of the story.
Sarah Dallof ReportingWhat was suppose to be a fun day at one of Utah's reservoirs took a tragic turn. A teenage boy drowned while swimming in the Causey Reservoir.
Officials believe the victim is an 18-year-old foreign exchange student. Dive teams have been searching for his body since about 12:30 Saturday afternoon. By Saturday night they had not found him.
Crews suspended the search effort due to darkness but say they'll continue looking for the body Sunday morning with a piece of sonar equipment.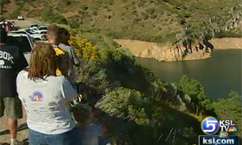 "We heard a bunch of ambulances, and my husband, he said, 'Oh, somebody probably drowned at Causey,'" said camper Kelly Marquart.
Unfortunately the Marquarts' instincts were right. A foreign exchange student swimming with members of a church group yelled for help, then slipped under the water.
Lt. Philip Howell of the Weber County Sheriff's Office said, "He made it close to shore, but he was having trouble. Before they could get back to help him, he slipped under."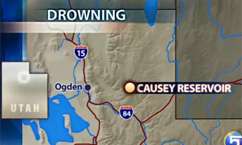 An off-duty sheriff's deputy and two sergeants jumped in the water to search until the dive team arrived.
"You never want these kinds of tragedies to occur, but hopefully the rest of the weekend will go safely," Lt. Howell said.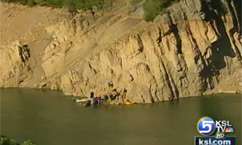 Wearing a life jacket is the law at Causey, but officials don't believe the victim had any kind of flotation device. Those who vacation there frequently say the calm waters are deceptive. They are cold, deep and dangerous.
Kelly Marquart told us, "Even when we canoe, we always have a life jacket on."
The victim's identity has not yet been released. His relatives in another country are still being notified.
The sonar equipment crews plan to use Sunday was used at Strawberry Reservoir, and officials say it was very helpful there in the search for a drowning victim.
×
Most recent Utah stories