Estimated read time: 2-3 minutes
This archived news story is available only for your personal, non-commercial use. Information in the story may be outdated or superseded by additional information. Reading or replaying the story in its archived form does not constitute a republication of the story.
GUNNISON -- Main Street in Gunnison, isn't exactly the Hollywood Walk of Fame, but it is where you will find the world's most popular movie star right now.
As "Cars 2" tops the box office, the star of Pixar's "Cars" sequel, is in front of the Casino Star Theatre. "It's Awesome" says one girl who stopped by to see him.
A boy adds, "He actually does look pretty real, I like it."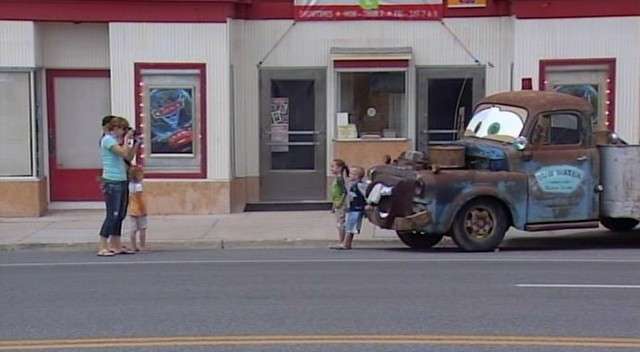 It's Tow Mater, better known as Mater, the star of the latest "Cars" movie. If you don't think it really is Mater, just look at the faces of the young kids who are showing up to see him.
With just 260 seats, The Casino Star Theatre in Gunnison rarely gets a new blockbuster when it's released, but last weekend was able to open with "Cars 2."
The theatre had no idea about the special guest.
"This showed up here the night before the movie was to open," said Diana Spencer of the Casino Star Theatre Foundation. "It had people climbing all over it, every kid in town."
Related:
Lifelong Gunnison resident Seth Hendrickson brought the 1951 Dodge to life as Mater a few weeks ago. For decades, the old truck was parked in a lot full of weeds.
The owners, D&D Buick, told Hendrickson they didn't want it anymore and let him haul it off.
"I kind of noticed it right when that first 'Cars' movie was coming out," said Hendrickson, "and so I hauled it down to the farm and stored him and decided this was a good time to get him out, and make him look like that."
It didn't take much.
A mouth, some eyes and just a little bit of paint, and it was all done in a day's work.
Everything with Mater is pretty authentic, including the rust. And Mater was really a tow truck in Gunnison, serving the community in the 1950s and '60s.
"You get talking to the old guys in town and they all recognize him from the good old days," adds Hendrickson. And now it seems everyone wants to have their picture taken with this old tow truck that doesn't even run.
"You've got to tow Tow Mater," laughs Hendrickson. "We had to tow him here, but maybe next year we'll have him ready to run."
He's a big attraction in a small town that feels a lot like Radiator Springs.
E-mail: spenrod@ksl.com
×
Photos
Most recent Utah stories