Estimated read time: 4-5 minutes
This archived news story is available only for your personal, non-commercial use. Information in the story may be outdated or superseded by additional information. Reading or replaying the story in its archived form does not constitute a republication of the story.
SALT LAKE CITY -- Have you ever seen one of those low-budget movies where the monster oozes out of the swamp, covered with black slime? Of course you have. My favorite — or perhaps my least favorite — was the "Swamp Thing." It featured a tar-black monster that slimed its way into the hearts of America — or at least those of us that were foolish enough to pay to see the movie.
But the slime part of the movie is real. Did you ever wake up with enough slime on your teeth that it made you feel like your whole mouth would instantly rot? Have you ever stepped on a slimy rock in a river and slipped? What about your toilet — have you ever noticed that enticing gray rot that builds up when a toilet has not been cleaned in far too long?
It's all called biofilm, and it shows up in many more places than just your toilet and your mouth. As a home inspector, I often see biofilm in jetted tubs. Imagine this scenario: you just had a hard day shopping. Whether you were the shopper or the shoppee (the poor mule husband who just stands there and carries all the bags), the day was exhausting. So you slip into the tub in your bathroom and turn the jets on in the tub. It seems so excellent; you have the bubbles as deep as the water beneath, the jets are hitting your sore feet and back just right, and your former mule husband is there rubbing your calves. Couldn't get better, right?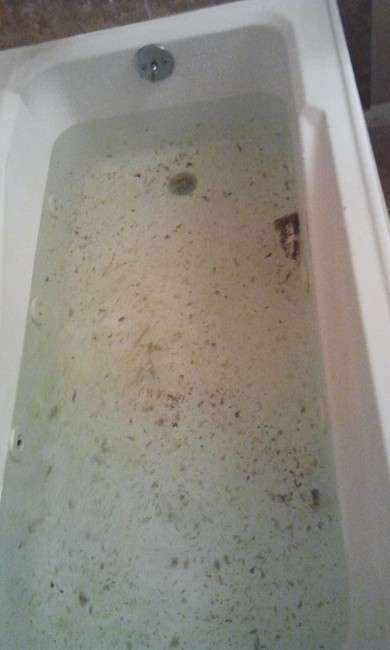 You soak in the luxuriousness of it all. Dip your hair, wash your face, push the bubbles around. Finally you get out only to discover that you're now Swamp Thing II: The Sequel! If you thought the first movie was bad, the sequel is worse. You're covered in little pepper-sized flakes of nastiness. Your slimy body is now far dirtier than when you got in. How did this happen? You look back into the tub and see thousands of little slime flakes floating around in what you thought was getting you clean. You can't wash off in the tub — that's how you got that way! A shiver goes through your soul — you dash for the shower but alas, you wake up the next morning with an infection.
Alas, you have bathed in a soupy mixture of E. coli, legionella pneumophilia, mycobacterium, and yes, Salmonella. The list goes on, but you get the idea. Children are at greater risk because they are more likely to be covered in the swampy goodness that is jetted-tub biofilm.
What happened? Some jetted tubs don't drain out completely after each use. Skin, body oils and soap that are left as residue just sit in the jetted plumbing and fester. Bacteria, viruses and the like have a heyday — food and moisture are plentiful, and the reproduction of ick goes viral. Next thing you know, you're filling the tub again and all of that ick gets blasted into your intended haven. You might as well be swimming in the toilet.
But wait! Don't make your tub a ghost town. There are plenty of options that can help you eliminate the biofilm from your jets in your tub. The first of these is to have a tub that drains all of the lines after each use. If you have this variety of tub, you're good. Another way to resolve the issue is to get a jetted tub cleaner — they can be found at most pool and spa stores, some of the big-box stores also have them. You can do it without spending any money as well: just fill up and drain the tub once before or after each use. Get the biofilm out of the jets and into the sewer lines where it belongs, then you can enjoy your bath without the harsh side effects.
For more information, visit www.crossroadsengineers.com, www.cleaningjettedtubs.com, and www.ahhsomebiocleaners.com
Experienced home inspectors see homes in an entirely different way. To learn more, please visit www.crossroadsengineers.com. There you can download books, read the blog, order a home inspection, or book a speaking event
×
Photos