Estimated read time: 3-4 minutes
This archived news story is available only for your personal, non-commercial use. Information in the story may be outdated or superseded by additional information. Reading or replaying the story in its archived form does not constitute a republication of the story.
JOPLIN, Mo. -- Three days after one of the deadliest tornadoes ever tore through the small town of Joplin, Missouri, residents who survived the direct hit are trying to put their lives back together.
Standing on the corner of 26th and Picher Street in Joplin, I wouldn't know where I was if it weren't for the street signs posted Wednesday morning. There are a couple of things I've noticed today. The smell -- it's a mix of saw dust, fuel and natural gas. The sounds -- the birds are chirping if you can imagine that considering the devastation. And chainsaws -- people working, sifting through what's left of their lives.
Wednesday, some residents began trying to find whatever they could of their belongings.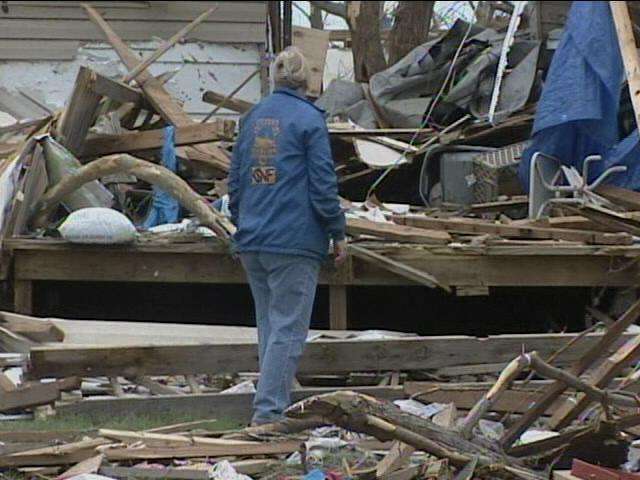 Dustin Eastin and Trey Adams are neighbors going through what's left -- if anything -- of their homes. They weren't home when the storm hit. Good thing, they say, they may not have survived.
"Our family was hit really hard, but the one thing I can say is thank God we all made it," Eastin said. "We can't replace family."
"Me and Maggie and my parents here and everybody else here, we've never met before today, and they've been nothing but help," said Trey Adams as he dug through the rubble that was once his home. "We had about 35 people around our house just pitching in earlier today."
Adams survived Hurricane Katrina. He says he'll survive this too, though maybe not in Joplin. His short-term plan is to move to Texas -- and he may not be coming back.
Eastin says he plans to rebuild, but perhaps not in the same location where his house once stood. He's meeting with FEMA to go over the destruction.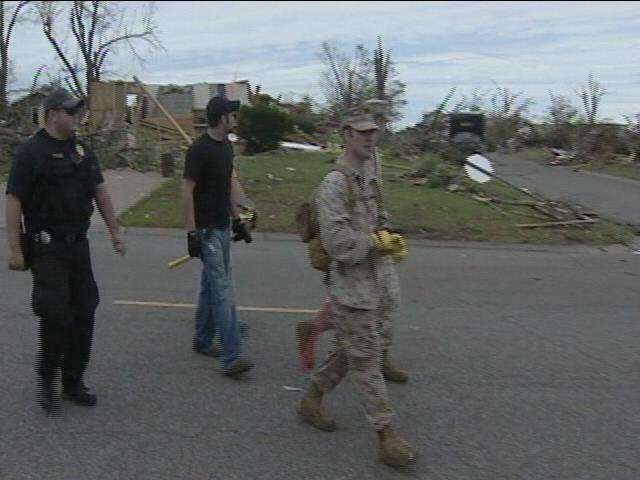 One thing I've noticed is here is people aren't saying, "What can I do to help?" That's because they're just helping. Roadside stands are stocked with food, people are pulling up in trucks on the side of the road giving away clothing to people who clearly have nothing left.
There's a large police and National Guard presence, comprised of men and women volunteering in the search for survivors.
We met an officer from a department more than 70 miles away from Joplin, volunteering on his day off. We followed him and other volunteers and Marine Reservists trained in search and rescue. They combed through debris and searched inside homes, hoping to find at least some of the 1,500 people still missing.
"We're trying to find survivors and casualties and get them out of here," said Phillip McIntyre with the 4th MLG CBRN Platoon. He compares the scene to his combat duty in the Middle East. "In Iraq, [we saw] just a couple of burned out buildings. But here, it's widespread demolishment."
Officials are expected to move the search and rescue effort to a recovery effort either Wednesday evening or Thursday. They are really concentrating more on finding the victims before the real cleanup begins.
Email: lprichard@ksl.com
×
Photos
Related stories
Most recent Utah stories