Estimated read time: 6-7 minutes
This archived news story is available only for your personal, non-commercial use. Information in the story may be outdated or superseded by additional information. Reading or replaying the story in its archived form does not constitute a republication of the story.
SALT LAKE CITY — Defense attorneys for Brian David Mitchell contend Elizabeth Smart, who was 14 when she was abducted and raped daily by their client, didn't suffer unusually extreme psychological injury during her nine months in captivity.
In court documents filed May 6, Mitchell's attorneys say they do not agree Smart suffered "extreme psychological injury ... since its application is directly contradicted by the testimony of Ms. Smart and argument by the government, who vigorously argued that Ms. Smart is a 'survivor' who has not been psychologically injured more than other victims of the offenses at issue."
Legal expert weighs in
Attorney and legal analyst Greg Skordas says the logic behind this maneuver is to decide whether or not there are aggravating circumstances that would mitigate a lengthier prison sentence for Mitchell.
---
The defense is going to say, 'You saw her on the stand. We've seen her serve her church, we've seen her go to school. She didn't suffer more psychological distress than you would expect someone to given all of these circumstances, so that shouldn't be an aggravating factor.'
–Attorney Greg Skordas
---
When deciding on how long Mitchell deserves to serve his sentence in prison, "The government can say, 'OK, let's look at whether or not there are some aggravating factors that will enhance that sentencing,'" Skordas said. "Did the victim in this case suffer from an extreme emotional or psychological disturbance as a result of this?'"
Mitchell was convicted in December of kidnapping and taking Smart across state lines for the purpose of having sex. He is scheduled to be sentenced next week in federal court. The maximum sentence for kidnapping is life in prison and a statutory maximum of 15 years for the transporting a minor conviction.
One of the benchmarks of Mitchell's trial was Smart's poised and remarkable testimony. For three days she took the witness stand and described in detail the abuses she suffered by Mitchell. Many in the courtroom remarked about how composed she remained while talking about such horrific acts.
Skordas told KSL, "The defense is saying, 'You saw her on the stand. We've seen her serve her church, we've seen her go to school. She didn't suffer more psychological distress than you would expect someone to given all of these circumstances, so that shouldn't be an aggravating factor.'"
Smart has often talked about being a survivor. After Mitchell was convicted, she stood outside the courthouse and said, "I hope that not only is this an example that justice can be served in America, but that it is possible to move on after something terrible has happened, and that we can speak out and we will be heard."
Skordas says that because these kind of cases are not common to begin with, this is not a very common argument for attorneys to make.
"It's hard in this case because everyone assumes this ordeal of so many months and so much sexual assault and the kidnapping and whatnot [were traumatic], how do you make an argument like that with a straight face?" he said. "But the defense has to do whatever they can to try to minimize his number of months or, in this case, years that he's going to serve in prison."
Victims' advocates react
Victims' advocates say they've seen the defense's tactics before in sex assault cases, and they're concerned about it. They say it's important to realize that all trauma victims respond differently, and many factors go into how they cope with it.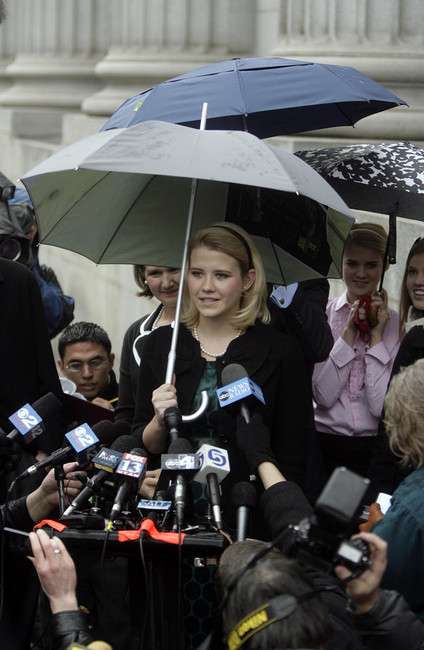 A courageous Elizabeth Smart exuded hope and strength for other victims of sexual assault throughout Mitchell's trial and has shared words of encouragement to others being victimized.
"That is a critical message for other survivors to hear, is that it is possible to go on," said Alana Kindness, executive director of the Utah Coalition Against Sexual Assault.
But how those survivors move on is variable. Factors like social support and their relationship with the perpetrator all play into their recovery. Victims' advocates say you can't just go on behavior and appearance.
"We never know from the outside looking in what is going on with a survivor of sexual assault," Kindness said.
After Mitchell's conviction, Kindness told the Deseret News it could be difficult for the community to understand that rape survivors react differently to the legal process, and how a community perceives the reaction of a survivor can affect whether or not they believe or support them.
"What is interesting in terms of public response to rape is how often that ability to talk about it and reflect on it without breaking down is used against victims in a trial to discredit them," Kindness said. "We have this idea of how someone should behave, so we're shocked when they don't behave that way."
Doug Goldsmith, executive director of The Children's Center in Salt Lake City, says crime victims can learn to cope well with day-to-day life, but their trauma comes back to them throughout their lives at unexpected moments.
"As long as I can still get out in the morning of my house and I'm not frightened, and I can go to bed and I'm not frightened, and I can carry on, those are the things that help us get better," Goldsmith said.
He says what is critical to anyone's recovery from a traumatic event is a good support system such as family, and evidence-based treatment. But that doesn't mean a victim isn't still affected.
"To assume for a second that this is a now-forgotten part of her history that will never plague her in anyway is ridiculous," Goldsmith said. "There's not anybody walking on the street that would say, really, you can be raped, kidnapped and really brutalized for months on end and have no lasting impact."
Victims' advocates say using a victim's demeanor to help a client is a common defense tactic, but disconcerting nonetheless.
"Even though it is entirely likely that she or any other victim can move forward with their life, that doesn't negate the impact of the crime against them," Kindness said.
---
Elizabeth has been amazingly resilient. But did (the crime) cause her psychological trauma? Oh my gosh! Give me a break!
–Ed Smart, Elizabeth's father
---
Smart's father, Ed Smart, said when he initially heard about the objection he was outraged.
"I thought it was pretty ridiculous," he said. "Elizabeth has been amazingly resilient. But did it cause her psychological trauma? Oh my gosh! Give me a break!"
After talking to prosecutors, however, Ed Smart said he understood such a motion is fairly typical in the legal system.
"We have confidence what was testified to," he said. "We're hoping, praying he gets the life sentence."
Attorneys list other objections
Also in their objections, Mitchell's attorneys said their client should not receive enhanced penalties for being the alleged mastermind behind the kidnapping.
"The facts adduced at trial do not support the application of an enhancement for Mr. Mitchell as the organizer, leader, manager or supervisor of the criminal activity," attorneys wrote in court documents. "Rather, the facts amply demonstrate that the co-defendants in this case acted equally in harmony and in concert, particularly at first as the criminal activity unfolded."
Mitchell's estranged wife and co-defendant, Wanda Barzee, struck plea deals in both her state and federal cases after being restored to competency in 2009. She was sentenced to 15 years in federal prison in Fort Worth, Texas.
The defense also asked for a paragraph in the pre-sentence report that apparently classifies Barzee as a "victim" of Mitchell, as well, be removed, "as it is not at all relevant to any sentencing issue in this matter."
Prosecutors can now file a reply to the defense's objections.
Smart is expected to address the court, and Mitchell, when he is sentenced next week.
------
Story written with contributions from Pat Reavy, Andrew Adams and Sandra Yi.
×
Related stories
Most recent Utah stories