Estimated read time: 9-10 minutes
This archived news story is available only for your personal, non-commercial use. Information in the story may be outdated or superseded by additional information. Reading or replaying the story in its archived form does not constitute a republication of the story.
SALT LAKE CITY — Elizabeth Smart took the witness stand Monday, on the second day of the trial for her accused kidnapper, Brian David Mitchell.
Day two began with testimony from Elizabeth's mother and younger sister and wrapped around 2 p.m. with Elizabeth still on the stand. She's expected to continue her testimony for the next few days.
Elizabeth describes the night she was kidnapped
Elizabeth began her testimony by describing the night she was taken. She said she woke up when she felt something "cold and sharp" on her neck. She said Mitchell told her, "I have a knife at your neck, don't make a sound. Come with me or I will kill your whole family."
---
I thought I was having a nightmare. It was just indescribable fear.
–Elizabeth Smart
---
Elizabeth said when she realized a man was in her room, "I thought I was having a nightmare. It was just indescribable fear."
She testified she asked Mitchell if he was going to rape and kill her to do it close to the trailhead so someone could find her remains. She said she asked him several times why he was doing this, and he said it was for ransom.
Elizabeth said, Mitchell, whom she referred to as "the defendant," took her up to a camp in the foothills. That's where Wanda Barzee was waiting for them.
Elizabeth said Mitchell performed a marriage ceremony and then raped her. That was just the beginning of her nine months in captivity.
She said for the first 6 weeks, Mitchell kept her tethered to a tree. She said he raped her daily and forced her to drink alcohol and smoke cigarettes.
Elizabeth said Mitchell told her: "I was very lucky and that I was being saved from the world, that I had been called by God. I was called by God to be his wife." [CLICK HERE to read the transcript of Elizabeth Smart's testimony]
Lois and Mary Katherine Smart recall night Elizabeth was kidnapped
Prior to Elizabeth's testimony, her mother, Lois Smart, and her sister, Mary Katherine, took the stand.
Lois said her family got ready for bed the night Elizabeth was taken and said family prayers. Lois said that's the last time she saw her daughter that night.
---
My heart sank and I called out to Ed, 'Call 911, she's gone.' ... It was utter terror. It was the worst feeling knowing that I didn't know where my child was.
–Lois Smart
---
She said Elizabeth's younger sister, Mary Katherine, woke her in the middle of the night, "She reminded me of a scared rabbit. She said, 'Elizabeth is gone.'" Lois said she saw the window was open in the girls' room and that the screen was cut. She testified, "My heart sank and I called out to Ed, 'Call 911, she's gone.'" She continued, "It was utter terror. It was the worst feeling knowing that I didn't know where my child was."
Mary Katherine said she awoke because she felt she was being nudged and then found a man in her room with a knife.
She said she told her family she thought the man who took Elizabeth was Emanuel, a man who had been hired to do some work around their home. [CLICK HERE to read the transcript of Mary Katherine Smart's testimony]
Lois Smart hired Mitchell in the fall of 2001 when she met him downtown while shopping with her six children. On the witness stand, she said Mitchell "looked like a clean-cut, well-kept man that was down on his luck."
Lois said, at that time, he did not preach nor did he seem paranoid or distressed.
Defense has "virtually no disagreement as to what happened"
An attorney for Mitchell said the defense has "virtually no disagreement as to what happened" with Elizabeth Smart, but said the defense has a "general disagreement about why it happened."
Defense attorney Parker Douglas asked jurors to "ferret out carefully not only what happened but why it happened."
Douglas picked up where he left off Thursday. He had just begun delivering their opening arguments when U.S. District Judge Dale Kimball was forced to stay the trial pending a decision from the 10th Circuit Court of Appeals about whether to grant a change of venue. A 12-member jury plus two alternates had already been seated and the U.S. government had already finished giving its 45-minute opening argument when the trial was halted.
Mitchell entered the courtroom Monday and sang hymns "For the Wisdom and the Love," "In Memory of the Crucified" and "There is a Green Hill Far Away" before the judge had him removed into a nearby annex to witness the proceedings.
Douglas told jurors they would hear "horrifying, crazy, disturbing" details of the case. He then posted photos of Mitchell taken at different points during his life and began to describe a lifelong battle with mental illness.
"There is much in his life that may look familiar either because they're the type of photos you're accustomed to seeing or because they're photos you've seen before," he said. "There are things outside the frames that you can't see. I'll cover both what's in and outside the picture as much as I can."
Defense describes Mitchell's past
The defense attorney said Mitchell was born Oct. 18, 1953, the third of five children raised in a seemingly mainstream Mormon household. He was somewhere between the ages of 13 and 15 when he began to change. "One of the figures in the photo now before you is Franklin Harry Mitchell, Brian's paternal grandfather, two years prior to Brian's birth," Douglas said.
Franklin Mitchell was civilly committed to the Utah State Hospital with a diagnosis of paranoid schizophrenia. Douglas said he was an intelligent man who also suffered from delusions.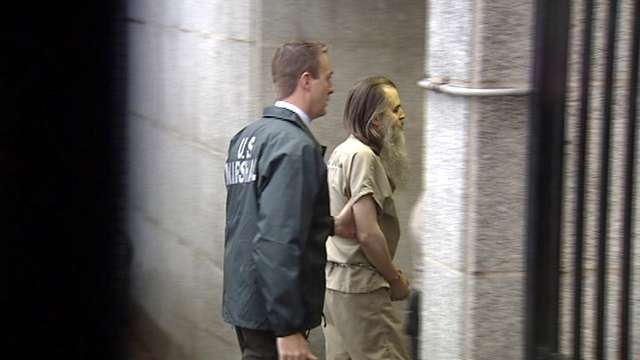 Mitchell's mother, Irene, was a school teacher. Mitchell's father, Shirl Mitchell, spent most of his life withdrawn from the family in various ways but believed he was a prophet.
Douglas said from 1966 to 1970 the first signs of mental illness began to manifest in Brian David Mitchell. When he was about 13, he began to identify with his grandfather and his father's beliefs.
Douglas said there were changes in his client's character at that time, when he became intensely cruel and sadistic in the treatment of his mother and siblings. He also adopted a strict fruit diet and accused his mother of poisoning him if she fed him anything other than fruit. Douglas said he would follow her around their home calling her a whore and other names. He would also say shocking things during this period, such as "I'm going to screw your eyeballs out."
Elizabeth Smart last year testified that Mitchell had made similar statements to her during the nine months he allegedly kidnapped her.
Later, Mitchell and his wife, Wanda Barzee, "decided to leave the world," Douglas said. He stopped using his Social Security number because he distrusted the government and didn't like institutions. The two journeyed throughout the land while Barzee would give organ recitals. They were attended by few or no people, but they believed "heavenly hosts" attended in great numbers.
Related:
The couple traveled to Alaska and Hawaii. They would purchase one-way tickets to Hawaii and trust in the Lord that they'd find a return ticket. It was "a test of their faith," the defense attorney said.
In 1996, they built their first handcart and pulled it across the Golden Gate Bridge. By 1997, they started dressing in robes that Barzee had made. In 1998, they built a covered wagon and called it "the hand wagon" and had a third vehicle they called "the hand house." The hand wagon was "sort of an Arc of the Covenant," Douglas told jurors.
In 1999, they built the "hand house" that was almost as large as a pop-up trailer. They pulled it for one day, but it was very heavy, he said. While going downhill one day with it near St. Marks Hospital, Barzee was run over by the hand house. Mitchell began quoting from the biblical book of Isaiah.
Douglas said it isn't clear when Mitchell began to believe he was receiving revelation. Some say he was as young as 18, but by the year 2000, Douglas said he believed he was receiving regular revelations from God.
God "revealed to him to restore the law of celestial marriage, plural marriage," Douglas said. Mitchell prophesied of the coming of a new Zion and said the Lord revealed that he should marry seven wives, then seven times seven wives with Barzee as his eldest wife. Mitchell then married a second woman named Kelly who was seven months pregnant. The marriage, however, was very short-lived, the defense attorney said.
In 2001, Mitchell approached a woman at a mall, but she rejected his offer of marriage. Douglas said the Lord then revealed to him that he must take younger wives.
When Mitchell finished writing a theological Book of Immanuel Isaiah David book of revelations, he showed it to his mother. When she wasn't interested, he frightened her and she obtained a restraining order.
On June 4, 2001, Douglas said Mitchell was living in a camp above the Smart home. He and Barzee had lived there before he met the Smart family. Douglas said Mitchell was doubting what to do, but Barzee comforted him and said if Elizabeth Smart was to be his wife, God would open the way if God wanted it to happen.
That night, he went to the Smart family's Federal Heights home.
"With a crazy mind, the easy explanation is not always the right one," Douglas told jurors. He said Mitchell's actions did not necessarily follow logic, but did follow a pattern.
He said Mitchell was "insanely inflexible."
"You will see and hear a crazy, cunning" man with intelligence and "contradictions of true madness," Douglas said of his client.
Elizabeth's sister, Mary Katherine Smart, who took the stand after her mother, was 9 years old when Elizabeth was abducted.
Mary Katherine feigned sleep, in the same bed she shared with Elizabeth, when she saw a stranger come into their room and take Elizabeth at knifepoint on June 5, 2002. It was the last time she saw her sister for nine months until Elizabeth was found. It was Mary Katherine's recollection of a roofer that had worked on the Smart home previously that ended up being the major break in the case. Mary Katherine Smart's testimony marked the first time she has taken the witness stand in court.
------
Story compiled with contributions from Pat Reavy, Dennis Romboy and Sandra Yi.
×
Photos
Related links
Related stories
Most recent Utah stories