Estimated read time: 2-3 minutes
This archived news story is available only for your personal, non-commercial use. Information in the story may be outdated or superseded by additional information. Reading or replaying the story in its archived form does not constitute a republication of the story.
SALT LAKE CITY -- The welcome home that greeted David Reymann and Stewart Christensen Friday night at Salt Lake International Airport meant much more than it would have two days ago -- both lived through one of the worst natural disasters in history.
Related:
"It's like everything slows down and you start just focusing just on the really essential things, like is something about to fall on me? Where do I need to go," Reymann said.
He was just boarding his flight in Japan when the massive 8.9-magnitude earthquake hit. "[It] felt like you were on a toy plane just bouncing up and down. It was just bouncing up and down," he said. "You could look out the window and see the air traffic control tower just waving back and forth like a corn stalk."
Stewart Christensen was in the Jetway, getting on the same flight. "I couldn't believe how long it was. It seemed like an eternity," he said. "I think it lasted over three minutes."
"[I] heard some screams from up in the terminal," Christensen continued, "and it's almost like a Hollywood movie scene where everyone was screaming.
Rather than evacuating, the pilot kept all the passengers on board while aftershock after aftershock rocked the plane. They were stuck on the tarmac for six hours.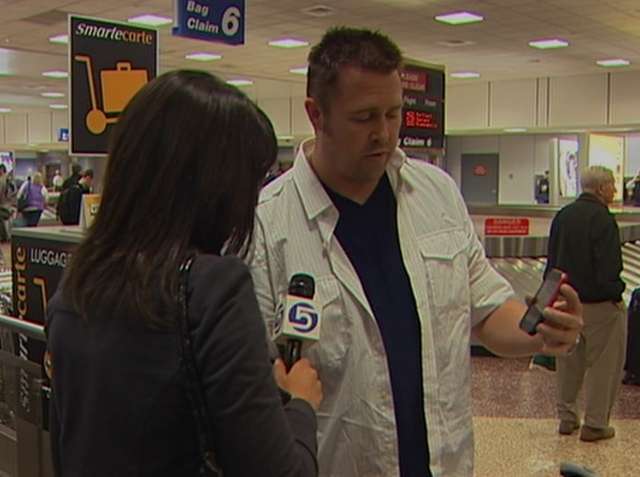 Christensen captured a 7.1-magnitude aftershock on his cell phone. "It just kept going. I stopped counting after eight aftershocks," he said.
When the pilot saw a small window for take-off, he told the passengers he was going for it. They were likely the only plane to leave the airport after the quake.
"Our pilot from Delta, he is the reason we got out," Reymann said. "He kept us on the plane and said, 'If we get off, you're going to have to evacuate.'"
"[When we] flew over Tokyo, you could see the fires at the refinery; just quite devastating," Christensen said.
Now back home in Salt Lake City, both men say they know how lucky they are.
"I wanted to kiss the ground," Reymann said.
They didn't see the images of just how devastating the quake was until they touched down in Portland, then continued their flight here to Utah. The men have colleagues who are currently stranded at the airport, in the basement.
E-mail: jstagg@ksl.com
×
Most recent Utah stories