Estimated read time: 3-4 minutes
This archived news story is available only for your personal, non-commercial use. Information in the story may be outdated or superseded by additional information. Reading or replaying the story in its archived form does not constitute a republication of the story.
SALT LAKE CITY -- Utah Gov. Gary Herbert will testify in two hearings in the nation's capitol today.
The headliner appears to be a hearing before the House Energy and Commerce Committee on President Obama's health care reform law. Around 7:45 a.m. Herbert will join Governors Haley Barbour of Mississippi and Deval Patrick of Massachusetts and talk about the health care law's impact on Medicaid and state health care reform.
Barbour also raised his own concerns about the law. "It would drive up my costs," he said. "It would absolutely make a very large tax increase necessary."
In Herbert's prepared remarks, he describes the president's Patient Protection and Affordable Health Care Act as a "one-size-fits-all approach." He says this state can find Utah solutions to Utah problems.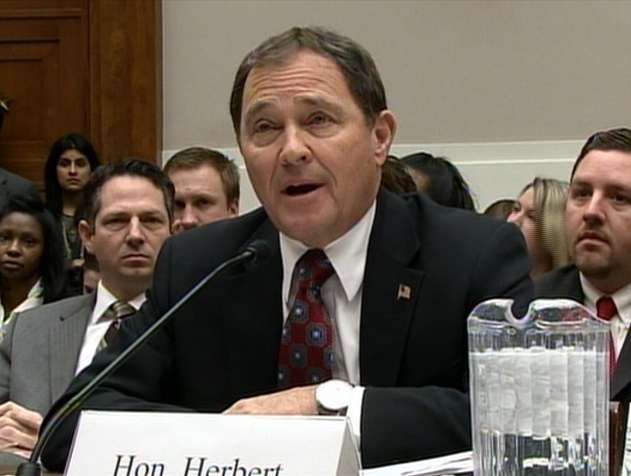 He also talks up the Utah Health Exchange, which has been billed as groundbreaking since its inception in 2009. In August of that year, Gov. Herbert said, "This effort really is putting Utah on the cutting edge and on the forefront of health care, health system reform."
The governor, in his statement, says many of Utah's uninsured are employed, and the Utah Health Exchange allows small business employees to choose from more than 100 health plan choices.
Employees can use the defined contribution from their employers to shop for health insurance tailored to their needs.
Herbert says it's one of several things Utah is doing that has generated interest from other states.
In his remarks, the governor also offers up a states' rights argument, saying "a balance of powers between the states and the federal government is not only right and proper -- but essential" in finding solutions to complex problems.
"Real health care reform, I believe, will rise from the states -- the laboratories of democracy -- not from the one-size-fits-all approach imposed by the federal government," he said.
Herbert told KSL Newsradio Tuesday morning, "The administration says, 'Oh yes, we want to give you flexibility.' But it's kind of like the old Henry Ford adage -- you can have any Model T you want, in any color you want, as long as you just choose black."
"Unfortunately the flexibility doesn't seem to be there with still continued requirements for maintenance of effort and not giving us the flexibility to not control our Medicaid rolls," Herbert said.
Herbert offered as an example when the state came up with a paperless system to communicate with Medicaid clients -- in other words, via e-mail. Herbert says it would save the state $6.3 million per year, and would save all states up to a billion dollars.
Yet eight months later, the state was told that wasn't going to happen.
But again, Herbert received a conflicting message later.
"Interesting when I raised the issue with President Obama just yesterday, I later received this note from Secretary Sebelius letting me know that we could now in fact proceed with the paperless process," Herbert said Tuesday.
Later Tuesday the governor goes before another House committee to voice his concerns about wild lands and Secretarial Order 3310. Critics describe it as a "backdoor approach" to creating more wilderness areas.
"This kind of came out of left field, which now seems to be tilting it away from the ability for industry to in fact "play," and to get permits and to develop in responsible ways, " Herbert said Tuesday morning. "So, it's causing concerns particularly for those who are investing millions and millions of dollars in our state to say, maybe we ought to go to South Dakota or Texas - someplace where there's a lot of private land and we don't have to go through this headache."
Click here to read his prepared statement on that topic.
------
Story written with contributions from Andrew Adams.
×
Photos
Most recent Utah stories