Estimated read time: 2-3 minutes
This archived news story is available only for your personal, non-commercial use. Information in the story may be outdated or superseded by additional information. Reading or replaying the story in its archived form does not constitute a republication of the story.
Shelley Osterloh ReportingA Salt Lake City man won a spot on the 2006 Olympic team after a tense race-off just before Christmas. Preston Griffall will compete in the doubles luge. He says he had a little help from above.
Olympus High's Preston Griffall and his luge partner, Dan Joye of California, have steadily risen through the ranks of the world cup to win the second spot on the Olympic team for 2006. The 21-year old has been sliding since he was just 11, and grew up practicing luge at the Utah Olympic Park.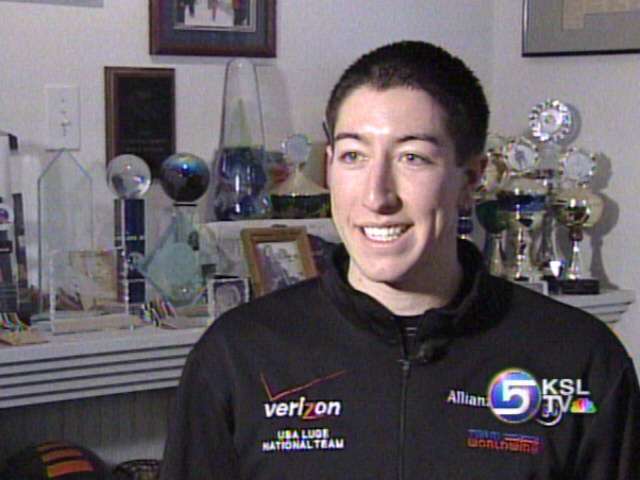 Preston Griffall: "The first year that I actually slid was up at the Olympic Park when they were building the track."
For years, his mother would drive him to the track after school so he could slide.
Preston Griffall: "My parents were always there for me; without them I definitely wouldn't be here."
We found mom and dad at his first World Cup in 2002.
Keith Griffall: "I give him all the credit. Obviously I have to give his mother a lot of credit, but I do give him a lot of credit. He's just stuck with it."
Faith Griffall, 2002: " Well you know, I just thought it was going to be like indoor soccer or t-ball and that we'd give it a try."
But it became more. His mother Faith became a race official to help support him in his dream, but said it was his determination that drove him.
Faith Griffall: "I just thought it was really great for him to really love something."
Two years later she died of breast cancer, but her memory and the lessons she taught Preston still guide him.
Preston Griffall: "She just always told me, 'no matter what happens, get out there and do your best. And if you give it your best, you can't be disappointed in anything.'"
He says the night before his final Olympic trial, just before Christmas, he was nervous and filled with doubt.
Preston Griffall: "That night I prayed a little bit and asked her to help me out and give me the confidence I need to make it down, and put a couple good turns. And she helped me out."
He won his chance to compete in Tornino, and for his Dad and brother that's enough.
Keith Griffall: "He won the gold medal, I can't say it, the moment he got to the Olympics. I'm so happy for him and I know his mother is."
Preston says his mother's love and support continue.
×
Most recent Utah stories