Estimated read time: 2-3 minutes
This archived news story is available only for your personal, non-commercial use. Information in the story may be outdated or superseded by additional information. Reading or replaying the story in its archived form does not constitute a republication of the story.
Sandra Yi ReportingA nativity in Logan has become the target of vandals again. Someone destroyed the manger then tried to steal the baby Jesus.
The baby Jesus is back in the manger after someone tried to steal it yesterday. Police say this happens almost every year. Fed up, they took extra measures this year to keep it from happening again.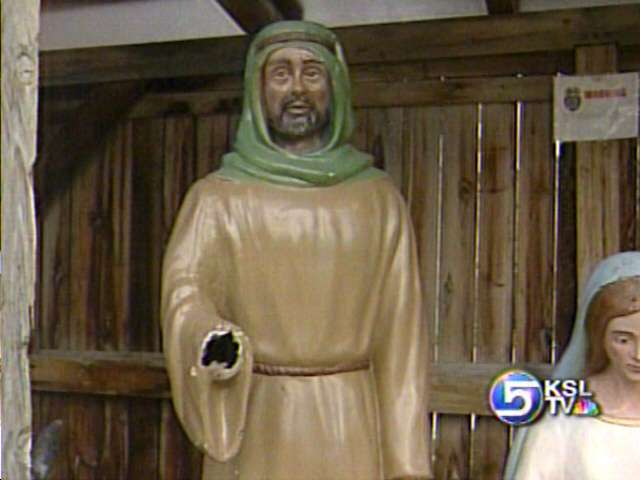 Doug Thompson, Mayor of Logan City: "This doesn't make any sense at all. It is really ironic isn't it?"
Mayor Doug Thompson can't explain it. All he knows is someone has spoiled a little bit of Christmas in Logan.
Doug Thompson: "It's a very small value, dollar value, but it's unfortunate that people are as insensitive to other people's feelings at this particular point in time."
The nativity on the lawn of the Logan tabernacle is a 25-year old tradition, but it's also become a target.
Doug Thompson: "We discovered that the baby Jesus in the nativity scene had been stolen."
On top of that, the manger was vandalized, forcing the city to make one out of straw.
Doug Thompson: "It was destroyed. It was broken apart. It couldn't be rebuilt from the parts left."
There are signs of vandalism from past years too. Joseph is missing a hand. The original baby Jesus, a fiberglass version, was destroyed and has been replaced by a plastic version.
Russ Hallam, Logan Resident: "One year it was kind of laying down over there, just vandalized, just a prank I think."
In the past, the city has used video surveillance to deter would-be vandals. This year they installed a silent alarm. Early Wednesday morning it went off when thieves took the baby Jesus. Police didn't arrive in time to arrest the culprits. The suspects ditched the doll and its blanket across the street.
That has people in the community shaking their heads.
Ron Tanner: "That what it's all about anyway. That's what Christmas is, I mean, if you're not going to have the nativity and remember the Savior, then why bother with Christmas?"
Police have posted a warning sign. If anyone is caught vandalizing the nativity, they can be charged with destruction of property and criminal mischief. Police are still looking for those responsible for this less-than-festive behavior.
×
Most recent Utah stories