Estimated read time: 2-3 minutes
This archived news story is available only for your personal, non-commercial use. Information in the story may be outdated or superseded by additional information. Reading or replaying the story in its archived form does not constitute a republication of the story.
Jed Boal ReportingThe intensity of a wildfire in Northern California worries wildfire managers throughout the region and here in Utah. The fire in California exhausts a lot of firefighting resources. It's also an indication of just how devastating fires can be this season, especially if we're careless.
Much of Utah is rated at extreme fire danger right now. No moisture in sight, and the state fire management officer knows the smallest spark can turn into big trouble.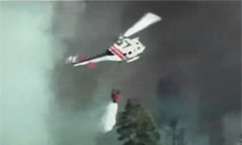 If you're a Utah firefighter, the video from California is frightening, and the size and intensity is impossible to capture on camera.
Tracy Dunford, the state fire management officer, said, "It's a good demonstration of how volatile conditions are, how vulnerable the urban interface is. Again, we start getting fires like that, they suck up resources that are available to us."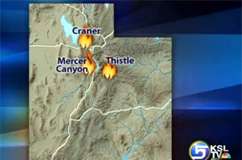 Dunford says Utah has been lucky. Resources are OK. Today, three major fires still burn.
The Craner Fire has torched more than 1,100 acres west of the Great Salt Lake. A viewer shot pictures of the Thistle Fire in Spanish Fork Canyon.
And people in Saratoga Springs keep a close eye on the Mercer Canyon Fire, which threatened homes 24 hours ago.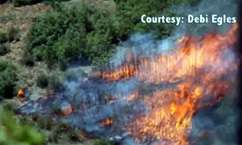 "[We] had some good firefighting and people on the spot when they needed to be, and caught it just in the nick of time," Dunford said.
Here's a dangerous trend: Firefighters across the state say the majority of fires have been human-caused.
"We need to get the word out. Please be careful when you're out doing these things," officials say.
Four campfires, five debris fires, three errant fireworks, two metal projects, one chainsaw, one load of hot ashes and three vehicles have started wildfires. Plus, the hottest weather shows up on the weekends.
"Right when we're at the peak of the most extreme fire conditions, that's when the majority of the people are out recreating. That's when we're getting a lot of these human-caused fires," Dunford said.
Fire restrictions cover much of Utah. For a closer look, check the related link on this page.
×
Related links
Most recent Utah stories