This archived news story is available only for your personal, non-commercial use. Information in the story may be outdated or superseded by additional information. Reading or replaying the story in its archived form does not constitute a republication of the story.
SALT LAKE CITY -- It was one of Utah's most memorable cases, and one of the top stories of 2010.
It took eight years, but Elizabeth Smart finally got justice. On Dec. 10, a jury found the man who kidnapped her and held her captive for nine months guilty of the crime.
"Today is a wonderful day," Smart said after the verdict that convicted Brian David Mitchell of the crime. "I'm so thrilled to be here and I'm so thrilled with the verdict, but not only that, I'm so thrilled to stand before the people of America today and give hope to other victims who have not spoken out about what's happened to them."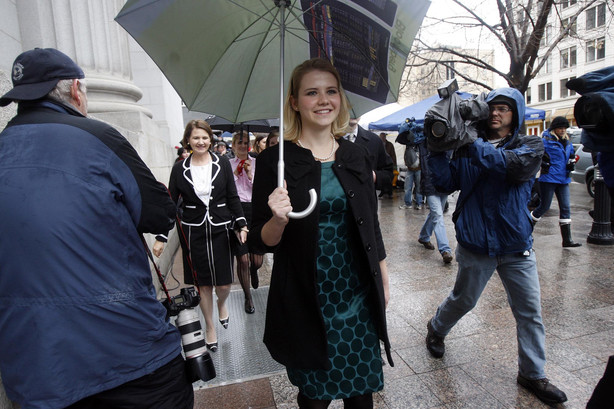 Brian David Mitchell was found guilty of kidnapping and transporting a minor across state lines for the purpose of having sex. That verdict could send him to prison for the rest of his life.
The jury listened to four weeks of testimony and came back with a verdict after deliberating for only five hours.
As the verdict was read, Elizabeth had a tiny smile on her face. Outside, she was beaming.
"I hope not only that this is an example that justice can be served in America, but that it is possible to move on after something terrible has happened," Smart said. "We can speak out and we will be heard."
Elizabeth's mother Lois Smart echoed those sentiments: "As mothers, as women, as daughters, that we can go forward and these things don't have to happen," she said.
The road to Mitchell's conviction has been long and drawn out because of issues with his mental state.
Mitchell's trial, which began Nov. 1, wasn't short of drama either.
During opening arguments, the trial was put on hold for a couple of days when 10th Circuit Court of Appeals considered a change of venue petition from the defense. The petition was denied.
Then, on Nov. 30, another delay when Mitchell suffered a seizure and was rushed to the hospital.
Mitchell, who was removed from the courtroom every day for singing, was allowed to stay inside when the verdict was reached. He sang as his fate was handed down.
But all eyes were on Elizabeth, who emerged an inspiration to victims of violent crime.
"It stands as a testament, I think, to the strength of our criminal justice system and it represents, in my view, a long overdue and historic resolution of this case both for the community, the Smart family and most importantly for Elizabeth," said U.S. Attorney for Utah Carlie Christensen
E-mail: syi@ksl.com
×
Related Links
Related Stories