Estimated read time: 4-5 minutes
This archived news story is available only for your personal, non-commercial use. Information in the story may be outdated or superseded by additional information. Reading or replaying the story in its archived form does not constitute a republication of the story.
SALT LAKE CITY — Very snowy roads made for a rough morning commute along much of the Wasatch Front Thursday, and the snow continued Thursday afternoon.
The National Weather Service issued a lake effect snow warning Thursday afternoon, which is in effect until 10 a.m. Friday. Areas affected are the Salt Lake and Tooele valleys, particularly near Tooele and Stansbury Park.
The man in charge of UDOT's plowing program, Lynn Bernhard, says all of its 498 plows have been out on the roads, clearing more than 15,000 miles of roadway statewide.
"The last couple of days have been really, really hard on us. All our plows are out. Everybody we have is out working," he said. "We usually have about 22 to 25 snow storms a year. Our budget is $22 million. We've spent $2.5 million in the last three days. So we're running a little ahead, but we're not concerned at this point."
Drivers can expect light snow showers late Thursday afternoon, which will become stronger into the evening. The Utah Department of Transportation reports state Route 92, from U.S. 189 to Sundance, is closed and was anticipated to be closed all day Thursday.
Related:
The storm crippled Utah's roadways and caused several slide-offs and crashes. The snow also buried yards and neighborhood streets.
Utah Highway Patrol troopers say slick conditions are to blame for an early-morning crash on eastbound I-80 at the ramp to southbound I-15. One lane still remained blocked late Thursday afternoon.
A car took a curve took fast, lost control and hit a wall. A semitrailer hauling 40,000 pounds of potatoes tried to avoid hitting the car but instead crashed and rolled onto its top over a railing.
"I haven't ever seen a semi go over the wall like that," said UHP trooper Zach Hutto. Two tow trucks were used to hoist the trailer, which broke in half, back over the railing. Sacks of potatoes spilled onto the road.
---
The speed limit is not appropriate on a day like this.
–Sgt. Randall Akers
---
No one was hurt, but troopers cautioned drivers to slow down.
"With snow-packed roads like we have today, I wouldn't be comfortable with doing anything over 30 miles an hour," said UHP Sgt. Randall Akers. "I've been in a lot of storms like this. At times I was wondering if that was too fast for me."
The west side of the Salt Lake Valley seemed to take the brunt of the storm. Snow piled up on roadways and iced over the I-215 on-ramp.
UHP trooper Jalaine Hawkes said, "We got called here earlier this morning. We had multiple slide-offs and the ramp was completely blocked by people trying to move onto I-215."
Whiteout conditions and blowing snow slowed down traffic on the Alpine Highway. Drivers also crawled along 4700 South in Taylorsville. The storm dumped about a foot and half of snow in West Valley City, where people spent hours shoveling.
Crash totals (12 a.m.- 7 a.m.)
Salt Lake County 1 injury 24 property damage 5 sliders

Utah County 1 injury 8 property damage 3 sliders
Adrian Anderson, of West Valley City, was going nowhere fast when snow buried her car in the driveway. She spent hours shoveling but then decided to call it a snow day.
"My car was going one way (the front end). The back end was going the other way. So I just said forget it, I'm not going to work," she explained.
Anderson and her neighbors dug out from more than a foot of snow, and it didn't seem to let up.
"It just keeps coming, but it's fun to come out and enjoy the snow. It's like a workout for me," one neighbor said. "I was hoping for it on Christmas but not today," said Justin Wasiloff.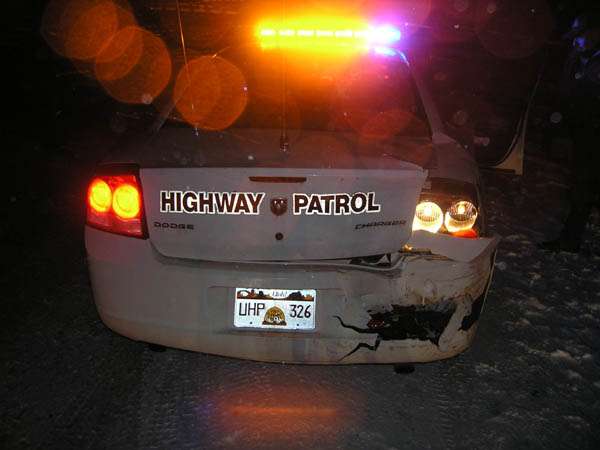 Herriman resident Joanne Bolnick posted a video on YouTube that shows vehicles colliding with the barrier on Juniper Crest and 5000 West Wednesday night. She said similar wrecks happen each time it snows because drivers "don't realize Juniper Crest is a hill and don't feel the need to take this turn with caution."
Meals on Wheels
The heavy weather forced the cancellation of Meals-on-Wheels deliveries by the Salt Lake County Division of Aging Services and the closure of 17 county-operated senior centers.
All meal recipients were alerted deliveries were cancelled.
Tomorrow is expected to be back to normal.
Avalanche danger
The strong winds and heavy snow created dangerous conditions in the mountains.
Those areas around Logan, Ogden, Salt Lake, Provo, Manti, and the Western Uintas all have high avalanche warnings.
The Utah Avalanche Center says the snow totals from this latest storm resulted in at least eleven avalanches across Utah.
Power outages
Rocky Mountain Power says about 3,900 customers were without electricity in Midvale since about 2 a.m. More than 450 people in the Provo Canyon were without power because roads in the area were shut down and crews couldn't get in to make repairs.
Latest information
For the latest weather forecasts, CLICK HERE.
For the latest road closures and major incidents, travelers should dial 5-1-1 or visit www.commuterlink.utah.gov.
Stay with ksl.com, KSL NewsRadio and KSL 5 News for updates on this developing story.
------
Story compiled with contributions from Anne Forester, Logan Daniels, and Andrew Adams.
×
Photos
Related links
Related stories
Most recent Utah stories