Estimated read time: 5-6 minutes
This archived news story is available only for your personal, non-commercial use. Information in the story may be outdated or superseded by additional information. Reading or replaying the story in its archived form does not constitute a republication of the story.
SALT LAKE CITY -- Yet another major winter storm rolled in to Utah, and it hit all over the state.
Along with strong winds and significant snowfall, the storm ushered in freezing temperatures to much of the state. A winter storm warning -- defined as a mixture of heavy snow and strong winds -- remains in effect until late Thursday afternoon.
Snow-packed and icy roadways made for a tense commute. At 7:30 p.m., the Utah Department of Public Safety reported 84 accidents in Salt Lake County 34 accidents in Utah County alone.
Anyone driving in the storm is warned to be prepared with a winter storm survival kit in the car. It should include extra clothes, food and water, blankets, and whatever else may be needed if the vehicle gets stuck in the snow. Motorists are also urged to slow down and be cautious.
Salt Lake County
The storm hit just in time for the drive home along the Wasatch Front where the snow significantly tangled traffic. During peak driving time, side streets were more congested than main thoroughfares due to drivers hoping to avoid heavy traffic on freeways.
Restrictions
Areas requiring 4x4 or chains:
U.S. 189 in Provo Canyon
I-80 in Parley's Canyon and Spanish Fork Canyon
Big and Little Cottonwood canyons
U.S. 89/91 in Sardine Canyon
U.S. 40 in Daniels Canyon
U.S. 6 in Carbon County from MP 230 to MP 182 (for semis)
Closures:
Westbound I-80 near Knolls in Tooele County
S.R. 92 in Utah County closed from Provo Canyon to Sundance until 8 a.m. Thursday
S.R. 14 from Cedar City to Long Valley Junction
S.R. 72 along summit of eastern Sevier and northern Wayne counties
UDOT said plows were using a heavy-duty salt mixture to melt the ice of roadways but as the temperature drops it takes longer for the salt to work.
At least one fatal accident was reported on Airport Road near 7200 South around 7:30 p.m. when a woman driving an SUV lost control and slid into the path of a Hummer. The head-on impact killed the woman and sent both vehicles off the road. Speed was not the problem; rather, the conditions were to blame.
Four-wheel drive or chains are required for all vehicles in many canyons in northern Utah. Little Cottonwood Canyon was scheduled to close at 7:30 p.m. for avalanche control Wednesday. It was estimated to be open by 9 p.m., but overnight closure is possible.
Davis County
By 6 p.m., the Utah Department of Transportation closed down US-89 between Interstate 15 in Farmington and I-84 due to multiple cars sliding off of the road. It was reopened by 7:15 p.m.
Utah County
S.R. 92 in Utah County is closed from Provo Canyon to Sundance until 8 a.m. Thursday.
Traffic had been blocked on northbound I-15 along the "S-curve" in Provo for hours Wednesday evening due to an accident and difficulty getting rescue vehicles in.
UHP dispatch advised whiteout conditions on S.R. 6 in Utah County and reported that vehicles have been sliding off through the canyon.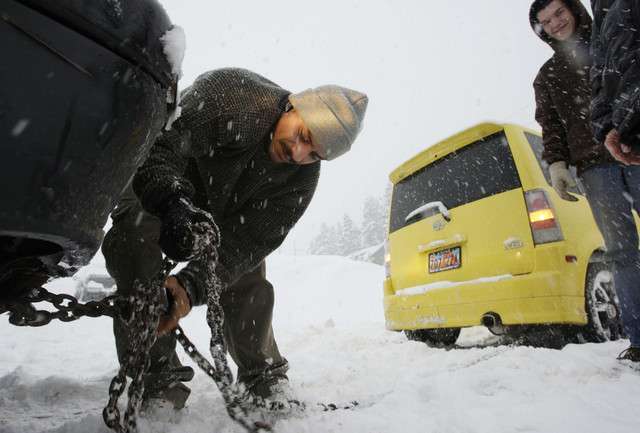 KSL received reports of a woman going into labor while stuck in traffic in Springville, but an ambulance was able to reach her and take her to the hospital before she gave birth.
The National Weather Service reports Eagle Mountain and Saratoga Springs received 9 inches of snow by Wednesday afternoon.
The city of Eagle Mountain closed its city offices at 2 p.m. and the city library at 3 p.m. because of the anticipated storm.
Provo Canyon had over 9 inches of snow before 6 a.m. Chains or four-wheel drive are required for all vehicles in Provo and Spanish Fork Canyons.
Wasatch County
All eastbound vehicles have been stopped near the mouth of Parleys Canyon to be checked for four-wheel drive or chains. A wreck involving a couple of semis and cars was reported at Mountain Dell earlier Wednesday morning.
UDOT station manager Jake Brown said, "They've received over a foot of snow up top, so they've got their hands full, so we've been lending some of our trucks to them."
Readers in Heber have reported nearly three feet of snow in the storm that began Tuesday night.
Sevier County
An avalanche in Sevier County pushed a state snow plow off the road Wednesday morning, and adverse driving conditions prompted officials to close state Route 72 until further notice. The plow was attempting to clear snow north of Fremont, near the summit that divides eastern Sevier and northern Wayne counties.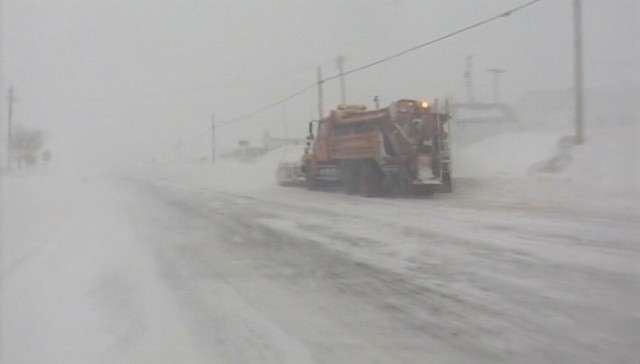 No injuries were reported, but the crippled snow plow forced other state workers to adjust their routes to keep key corridors clear.
Kevin Kitchen with UDOT said high winds and blowing snow were creating poor visibility at higher elevations throughout much of the Sevier County region.
Juab County
The Department of Public Safety reported that I-15 near milepost 228 southbound was closed due to spun-out, jackknifed semis and passenger vehicles. Northbound lanes in the same area were obstructed for the same problem but by 8:45 the freeway was reopened.
In Eureka, in Juab County, where there was already a foot of snow on the ground before the storm hit, snow plows were experiencing similar trouble, having to be pushed out of the way by other snow plows.
Mayor Milt Hanks said there is now 3 feet of snow on the ground, with it continuing to pile up.
Latest information
For the latest weather forecasts, CLICK HERE.
For the latest road closures and major incidents, travelers should dial 5-1-1 or visit www.commuterlink.utah.gov.
UDOT works to keep roads clear
Adan Carrillo, spokesman for UDOT, said crews spent the night prepping major thoroughfares in anticipation of the storm, spreading salt, sand and salt brine -- particularly on bridges and off-ramps that could become icy.
The state has an arsenal of 400 snowplows, but it will be directing its efforts on state highways, the interstates and roadways that fall within its jurisdiction. City and snow plow crews throughout the state will concentrate on keeping neighborhoods as clear as possible and those roadways that, if snow-packed, could impact pass-through travel.
Get traffic updates on KSL NewsRadio 102.7 FM/1160 AM.
------
Story written with contributions from Jennifer Stagg, Anne Forester, Sam Penrod and the DMC News Division.
×
Photos
Related links
Related stories
Most recent Utah stories