Estimated read time: 4-5 minutes
This archived news story is available only for your personal, non-commercial use. Information in the story may be outdated or superseded by additional information. Reading or replaying the story in its archived form does not constitute a republication of the story.
BEAVER DAM, Ariz. (AP) -- At least six homes have been swept away by flooding in northwestern Arizona since a powerful storm system arrived -- and more were in danger still, fire officials said Wednesday.
The six structures were among about 180 homes and trailers in the Beaver Dam RV Resort, a golf course community in a wash affected by flooding, said Bill Evans, chairman of the Virgin River Domestic Wastewater Improvement District board.
Wednesday evening, water levels in the Beaver Dam Wash were rising again. Levels in the Beaver Dam area aren't expected to peak until Thursday morning.
Evacuations urged as homes swept away
---
Mohave County flooding hotline: 928-757-0912
---
Mohave County has asked residents who have evacuated to not return to their homes and has been urging those who have not yet evacuated to do so.
Residents in these neighborhoods could do nothing but watch as houses were swept downriver.
"It makes me cry," said resident Pat Dent. "Such a waste, and no way to avoid it. Nothing you can do but deal with it."
Resident Tom Gates said the rain seemed heavier Wednesday, and the National Weather Service put the chance of precipitation through Thursday morning at 100 percent.
"Everybody is pulling stuff out of their houses now, ready to get out of here," Gates said as he helped remove pictures, furniture and appliances from the homes of neighbors.
Mohave County officials were monitoring the rainfall and stream flow upstream of the wash and said anybody who had been asked to leave should heed the warning.
Related:
"They had sheriff's deputies and fire personnel going door to door telling people in the area that needed to to evacuate, and it's really up to them to decide if they're going to do that," said Mohave County spokesperson Darryle Purcell.
Gates had watched as homes collapsed and were carried away in the wash. Electricity was out and water shut off to damaged homes. Neighbors living on higher ground were offering spare bedrooms to those who were leaving their own homes, Gates said.
Crews work to save homes
Construction crews have been working to build a diversion dam of rocks and boulders, trying to save homes in danger of being carried away. It's been a long day for these crews, and as the rain continues to fall they know it will be longer come tomorrow.
"They tried to move a bunch of houses out of the way today, as long as they could get down there safely to move them," said resident Ronda Crosby, who has watched tensely with her neighbors as the floodwaters continued to surge.
"The river can do anything, but we're doing this in an attempt to protect those homes," said Monte Wilson with Mohave County Public Works.
Crews say this is the type of thing they've been seeing all day long in Arizona along the Utah border. They're just hoping to save more homes from going into the water. So far, they believe they're doing just that.
"By rushing and doing this, we have probably protected the better part of 25 or 30 homes," Wilson said.
Another bit of good news: No injuries or fatalities have been reported.
Inmates sent to assist residents
Mohave County Sheriff Tom Sheahan sent jail inmates to help with sandbagging as the community braces for more rain, and neighbors are helping one another move belongings out of danger.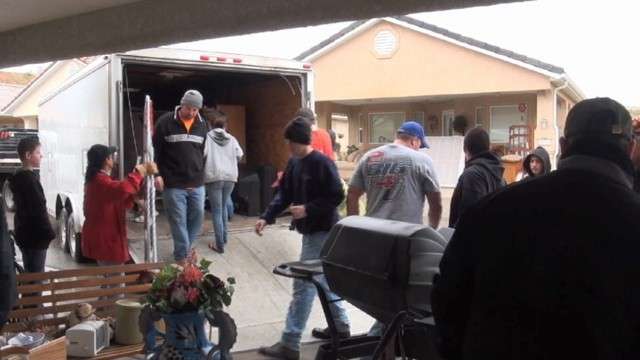 "Due to the extent of the damage, it is apparent that some people need additional help. The inmates can fill sandbags, load them off trucks or whatever is needed," Sheahan said. "There is not a better place for our inmates to be during the holiday season than helping their fellow man."
All of the inmates chosen for this activity are in "for lesser charges and are being supervised by our correctional officers," he said.
Beaver Dam is in the northwest corner of Arizona between Utah and Nevada with a population between 3,500 and 5,000 people.
The same wash flooded in 2005. More than 20 homes in the area were damaged or destroyed that year. About 40 homes and garages in nearby Mesquite, Nev., also were damaged.
County officials say after the floods of 2005 they made improvements to areas at risk for flooding, but only so much can be done to prepare for rivers as swollen as this.
"It's kind of odd that it happens twice in five or six years," Gates said. "Things happen, I guess, and it's really too bad."
The Red Cross has set up an emergency shelter at Virgin Valley High School at 820 Valley View Drive in Mesquite, Nev.
The Mohave County DOC has set up a hotline for the public to call with questions about the flooding and to find out how to help. County personnel will answer those questions and also to take reports from residents. Call 928-757-0912.
------
Story compiled with contributions from Sarah Dallof, Alex Cabrero and the Associated Press.
×
Photos
Related links
Related stories
Most recent Utah stories