Estimated read time: 2-3 minutes
This archived news story is available only for your personal, non-commercial use. Information in the story may be outdated or superseded by additional information. Reading or replaying the story in its archived form does not constitute a republication of the story.
SALT LAKE CITY -- The weekend's wet weather and this week's pending storm are creating dangerous avalanche conditions across Utah's backcountry.
Bruce Tremper of the Utah Avalanche Center said, "This is the most dangerous avalanche conditions we've had this year by far. We're at 'extreme' danger in the Provo-area mountains and 'high' danger in the rest of the mountains in Utah. Extreme danger, that's pegged out. That's as high as you can go on the scale."
The center warns people venturing into the mountains to stay out from underneath steep slopes.
The storm brought a rain or a rain-snow mix to valleys along the Wasatch Front Monday morning.
In Salt Lake County, one lane of traffic is closed at 3300 South under Interstate 15. UDOT says drains on the south side of the intersection are overflowing, creating flooding conditions near the on-ramp to southbound I-15. That closure is expected to continue until the flooding condition subsides, most likely Tuesday morning.
Up to 3 feet of snow fell in the canyons over the weekend. Alta Ski Resort reports a base of 92 inches, with 22 inches in the past 24 hours.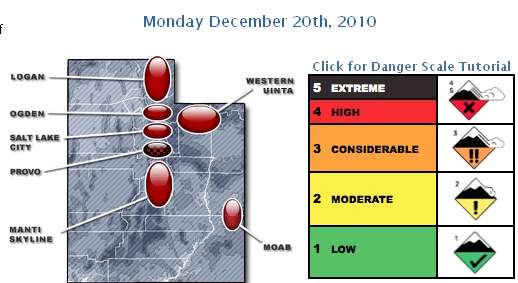 Interstate 80 is closed at the Wyoming border to Lyman due to weather. U.S. 6 in Spanish Fork Canyon was closed between Tucker and Emma Park Road due to weather but now has reopened. However chains are required for semis.
Little Cottonwood Canyon closed for avalanche control and was expected to reopen around 1 p.m.
No one was injured in a small slide outside of a Snowbird ski area Sunday.
Evelyn Lees with the Utah Avalanche Center explained, "We've received a lot of heavy, wet snow over the past two days and it's falling on some weak crystallized snow, so we have a weak layer with a dense slab sitting on top."
The storm is expected to last for several days. Get the weather forecast here.
------
Story written with contributions from Randall Jeppesen, Anne Forester and the DMC News team.
×
Related links
Related stories
Most recent Utah stories