Estimated read time: 4-5 minutes
This archived news story is available only for your personal, non-commercial use. Information in the story may be outdated or superseded by additional information. Reading or replaying the story in its archived form does not constitute a republication of the story.
SALT LAKE CITY — Salt Lake City Police were investigating two separate homicides Saturday after a woman's body was found dead in a Sugar House park restroom and a man was shot and killed over a card game.
The body of a woman was found in a park restroom near Sugarmont Drive (2225 South) and McClelland Street (1040 East) around 2:40 p.m., Salt Lake Police Lt. Shawn Josephson said. The initial call reported suspicious circumstances, and when police arrived on the scene, they determined that the death appeared to be a homicide.
"The evidence scene is at the park in the bathroom, however, there is significant evidence leading up to the park also," said Josephson.
Hours later, officers fielded a call on a man who had been shot and killed at Terrace Apartments at 1810 S. Main. The call came in at 6 p.m. and officers were told there was a group of individuals who were playing a card game when an argument broke out.
---
No specific witnesses saw the homicide. There were many people in the park, in the parking lot, in the aquatic center.
–Lt. Shawn Josephson
---
"It erupted in an argument," Josephson said. "Guns were pulled, shots were fired and one man ended up dead."
He did not believe anyone else in the apartment was injured. All of those who were present at the time have been detained for interviews by the police.
Police say they have the shooter in custody.
Police were not identifying the victim until his family could be notified. Josephson said identifying the woman in the park would take additional time as investigators anticipated working through the night in an effort to gather evidence from the scene.
He said there was trauma to the woman's body as well as evidence in the bathroom and the area around the bathroom that has led police to ask for help in locating anyone who looks as though they have been involved in a fight.
"Scratches, lacerations, blood, anything of that sort," Josephson said.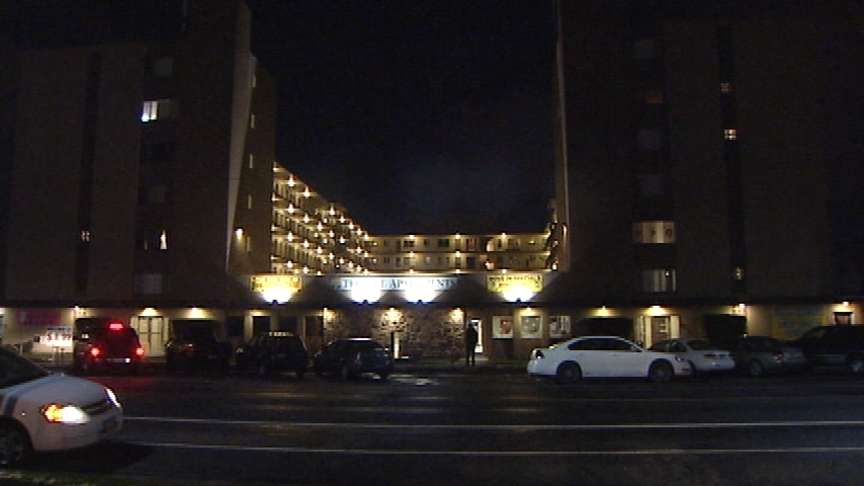 Immediately after the body was discovered, police evacuated the park, took contact information from everyone in the area at the time and closed off the park to preserve any evidence, Josephson said.
"No specific witnesses saw the homicide," he said. "There were many people in the park, in the parking lot, in the aquatic center."
He would not elaborate on where in the restroom the woman was found or what conditions led police to believe the death was a homicide.
Fairmont Aquatic Center closed as a result of the investigation, but the Salt Lake Chapter of the Boys and Girls Club remained open.
Area resident Vonda Eaglehorse said she was walking in the park around 2:50 p.m., but saw and heard "nothing out of the ordinary."
She said moved to the Sugar House area after her husband was diagnosed with cancer, specifically because they wanted to be in a nice neighborhood.
"It's always been safe," she said. "That's why I like Sugar House. But this is scary."
Debra Macfarlane, said, though, that the park can be dangerous and that while she goes there daily to walk her dogs, it's only in the daylight hours.
"I thought the police were here for a transient situation," she said. "They accost you, they try to throw things at you, they're always drunk. It's kind of a nasty park."
She was one of many detained by police for questioning, but also hadn't heard or seen anything suspicious Saturday afternoon.
"Now we're caught up in it," she said. "I've heard it was a brutal murder."
Anyone with any information should call police at 801-799-3000.
-----
Story compiled with contributions from Emiley Morgan and Sarah Dallof.---
×
Photos
Most recent Utah stories