Estimated read time: 2-3 minutes
This archived news story is available only for your personal, non-commercial use. Information in the story may be outdated or superseded by additional information. Reading or replaying the story in its archived form does not constitute a republication of the story.
Keith McCord ReportingCity and county leaders, planners, environmental groups and others have signed off on a huge development plan for the west side of the Salt Lake Valley. Kennecott Land Corporation wants to develop about 144-square miles of it's property in the decades ahead and today, after months of study and revision, the Master Plan was released.
Salt Lake County Mayor Peter Carroon, along with hundreds of others, signed a "Memorandum of Support" of the so-called West Bench Master Plan. It's Kennecott Land Corporation's long-term vision of what its property will become in the decades ahead.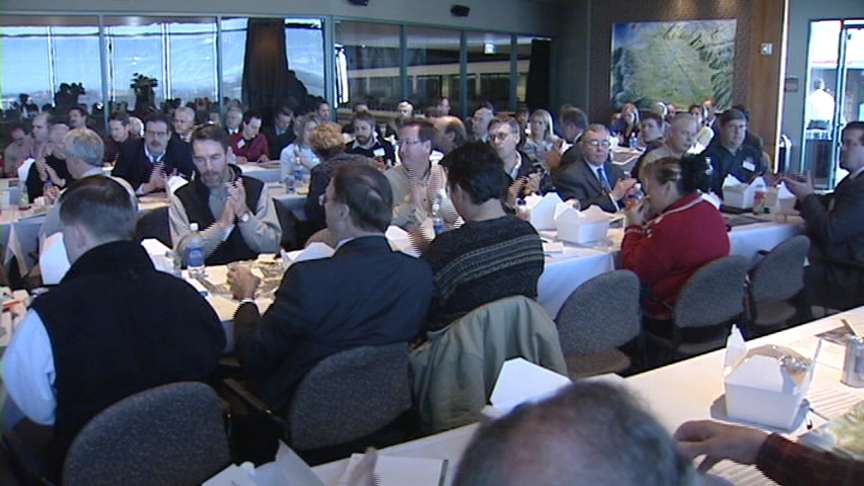 Jim Schulte, Kennecott Land Corp.: "We do own the property, but the reality is that this site will affect all of us in this room, and our families for generations to come."
Kennecott owns most of the land along the west side of the Oquirrh Mountains. For decades, the entire area has been off-limits to the public, but as Kennecott looks beyond the days of copper production, this land will open up to a variety of housing projects, villages, business complexes, parks and open space.
Peter Calthorpe, Calthorpe Assoc.: "This isn't in my mind a maybe, you know, maybe we can do this. It's clear to me that you CAN do this!"
For months now, 126 town, city and county officials, environmental groups, transportation planners and others, have met to exchange thousands of ideas of how these 75-thousand acres should be developed in the years ahead.
They did come up with certain priorities or guiding principles. Ranked in order of importance:
Public transportation
Environmental issues
Parks and open space
Roads
Schools
The economy and jobs
Peter Carroon, Salt Lake County Mayor: "This collaboration is probably one of the most valuable things we can do as community leaders. It's our chance to work together as a community to define what is important to us and insure that those values are preserved for future generations."
Now that the planners and community leaders have signed off on the plan, the public will have a chance to review it and digest it, and ultimately comment. Public hearings will begin next spring.
This is a decades-long plan, but it's safe to say that once some of these areas start to fill in, they'll eventually incorporate and Utah will have some brand new cities.
×
Related links
Most recent Utah stories