Estimated read time: 5-6 minutes
This archived news story is available only for your personal, non-commercial use. Information in the story may be outdated or superseded by additional information. Reading or replaying the story in its archived form does not constitute a republication of the story.
LAYTON -- They're cases that made headlines: Five children who were victims of homicide this year -- all in the same city. And the same small investigation unit inside the Layton Police Department has handled each case. The cases have left their mark on the detectives.
These eight officers hoped they would never have one case like this during their entire careers, and they believe it's their duty to fight for innocent victims who aren't able to fight for themselves.
Layton child homicides

Rebecca and Rachel Toone
In February, 4-year-old Rebecca and her 15-month-old sister, Rachel, died less than three days after their home was treated for a vole infestation. A pesticide technician is accused of putting too much pesticide too close to the home. Investigators believe toxic phosphine gas from the pellets seeped into the home and sickened the girls.

James and Jean Warhola
In September, Sun Cha Warhola was accused of killing her two children. Police believe Warhola strangled her son James, 8, and daughter Jean Marie, 7, in a bedroom at their home.

Ethan Stacy
Ethan Stacy died in May after what prosecutors say was days of abuse at a Layton apartment. His body was mutilated in a crude effort to conceal his identity. His body was found near Wolf Canyon Trail. Prosecutors have charged Ethan's mother, Stephanie Sloop, and his stepfather, Natanael Sloop, with murder.
"There's a saying in police where sometimes you have to give up part of your soul to get into a suspect's soul so that it will help you understand them during their interview, and hopefully later on you get it back, your own soul," says Layton police Detective Brooke Plotnick. "But I think, in this case, a lot of us had to give that up and a lot of us didn't get it back."
In February, 4-year-old Rebecca Toone and her sister, 15-month-old Rachel, died after inhaling toxic gas from a rodent pesticide. Cole Nocks, 63, has pleaded not guilty to two class A misdemeanor counts of negligent homicide.
"It was kind of surreal," said Detective Jeff Roderick. "This is something that happens in movies."
Almost exactly three months later, 4-year-old Ethan Stacy was tortured and murdered. Plotnick sensed the parents weren't telling the truth about Ethan wandering off in the middle of the night.
"Their stories didn't match up and there was just something wrong with the whole situation," Plotnick said. "With Nathanael Sloop, I felt like I was sitting across the table from someone who was evil — someone who had no soul."
Eventually, police pieced together a different story: that the Sloops had beaten Ethan for days, neglected to get him medical help, then disfigured and buried his body near Powder Mountain in Weber County.
"No one should have happen to him what that little boy had happen to him," said Lt. James Petre.
The unit was still coping with Ethan's case when siblings -- 7-year-old Jean and 8-year-old James Warhola -- were murdered, police say at the hands of their own mother. Police believe Warhola, 44, strangled her children in a bedroom of their east Layton home. She is facing an inquiry into her competency to face capital murder charges.
"Your thoughts immediately go to the previous cases," Roderick said, "and how terrible those were and what's in store for us on this one."
The horrifying details hit home for the detectives, who had to recover Ethan's body and probe the events leading up to his death. They have their own kids.
"I immediately thought of my grandson and how much I love him and how much I wanted to go give him a hug," Plotnick said.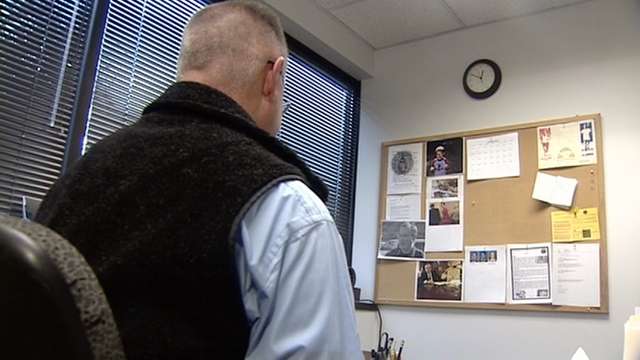 Ethan's picture sits right above Plotnick's desk. "I won't forget about him until those two are in prison," he said. "And even then, I'll probably never forget about him."
"It was a revolting scene and a sickening feeling," said Layton Police Chief Terry Keefe, "and you ask yourself how could anybody do this to their children?"
When they close their eyes they can still see the images, the memories of each case as fresh as the day it happened.
"I've had dreams that little Ethan has walked up to me and smiled at me, and another one where he rode by me on a bike, and smiled," said Plotnick. "And I've had dreams with the Sloops in them too. Well, I wouldn't call those dreams. Those are more nightmares."
The detectives see the innocent victim whenever they look at their own children and grandchildren.
Detective Glen Fullmer explains, "The little faces. You use those in your mind's eye constantly."
"There's just certain things with this job that you'll always remember," says Detective Chad Jones. "Certain things that you see, smells, it will always be there."
These men have faced each tragedy head-on. It's their job to learn every detail of the crimes, even the most horrific, because of what they are sworn to do, they can't look away.
"There was a lot of emotion of we never were given the chance to prevent it," says Detective Chad Jackson.
In a profession where it's crucial to keep a clear head, they've had to find a way to work through what they've heard and seen.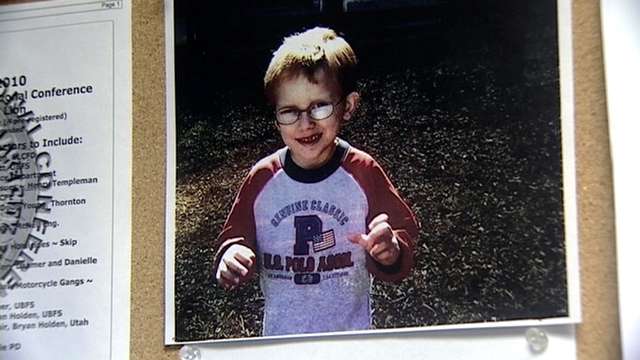 "They're not allowed to talk about certain specifics of the case," explains counselor Rich Jensen. "What happens is that you could have post-traumatic stress disorder set in, depression could set in, anxiety can set in."
Jensen worked closely with the unit this year.
"They have kids the same age as these victims. That creates an additional vulnerability in my opinion," Jensen says. "They identify and relate. In fact, one of the police officers said that the shirt that one of the victims wore, his son has the same shirt."
After this year, the Layton Investigation Unit is a lot closer and a little smaller in numbers. These cases proved to be too much for a couple of detectives and they asked to be reassigned.
"We have a job to do, and we can't do that job if we allow ourselves to get tied up on the emotional side of it," Petre says.
Instead they channel their anger and sadness, disgust and frustration as motivation. They believe they are guardians, working hard to ensure justice is served.
"We feel an obligation to these kids," Fullmer says.
"These cases are probably going to stick with me for the rest of my life," Detective Brent Ericksen said.
The department offers grief counseling to anyone who feels affected by the cases -- whether they worked on them directly or not.
All three of the cases are still in court.
------
Story compiled with contributions from Jennifer Stagg and Paul Koepp.
×
Related stories
Most recent Utah stories