Estimated read time: 2-3 minutes
This archived news story is available only for your personal, non-commercial use. Information in the story may be outdated or superseded by additional information. Reading or replaying the story in its archived form does not constitute a republication of the story.
SALT LAKE CITY — A 36-year-old man who pleaded guilty to ramming his former wife's car, chasing her into her work and beating her, was sentenced to prison Monday.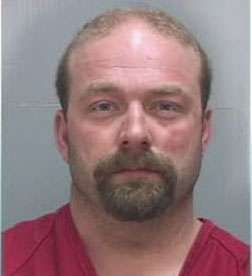 Charles Edwin Gordon, 36, was sentenced to 1 to 15 years in prison for attempted aggravated assault, a second-degree felony, and five years to life for aggravated burglary, a first-degree felony. He is to serve the prison time concurrently.
Gordon pleaded guilty to both charges in July. Additional charges of forcible sex abuse and stalking, both second-degree felonies; retaliation against a witness and violation of a protective order, both third-degree felonies; and DUI, a Class B misdemeanor, were all dismissed.
Gordon was already facing domestic violence charges stemming from a June 2009 incident when he was arrested in September 2009 after police said he followed his 29-year-old ex-wife to her work at Discover Card, near 2500 South and 4100 West. At the time, the woman had a protective order in place against Gordon after he beat her so severely that she had to get reconstructive surgery.
Police said the woman attempted to park next to her building so she could run out of her car and into work, But before she could park, Gordon rammed her vehicle. The woman then got out and started running to the building, but Gordon tackled her at the doors, hit her in the head and face and attempted to strangle her, police said.
Security officers came to the woman's aid and pulled the man off. She was taken to a local hospital in fair to serious condition.
Gordon pleaded guilty to aggravated assault, a second-degree felony, and domestic violence in the presence of a child, a third-degree felony, in connection with the June 2009 beating.
He was sentenced Monday to 1 to 15 years in prison for the aggravated assault charge and zero to five years for the domestic violence charge. Those prison terms are to be served concurrently with one another, but consecutively the other case.
E-mail: emorgan@desnews.com.
×
Related stories
Most recent Utah stories