Estimated read time: 2-3 minutes
This archived news story is available only for your personal, non-commercial use. Information in the story may be outdated or superseded by additional information. Reading or replaying the story in its archived form does not constitute a republication of the story.
Dina Freedman, KSL Meteorologist Reporting With record-high gas prices and warmer weather, scooters are turning up in increasing numbers. There are more people on scooters than in years past; you see them on the roads, especially now that the weather's been warm and dry.
There are some serious advantages to taking a scooter around town. You can get up to 75 miles to the gallon.
Scooter owner Josh Barber says, "A lot of people laugh at you and make fun of you but you can laugh right back at them and say, 'I'm saving money and having a lot of fun at the same time.'"
Scooter owners right now are one happy bunch. It's fun, it's easy and they're not going broke at the pump.
Scooter owner Vince Morgan says, "They make them almost like motorcycles, but the ease of the automatic transmission. It's simpler than riding a bike, a bike you have to pedal. The scooter, it's the same type of balance situation but it goes on its own."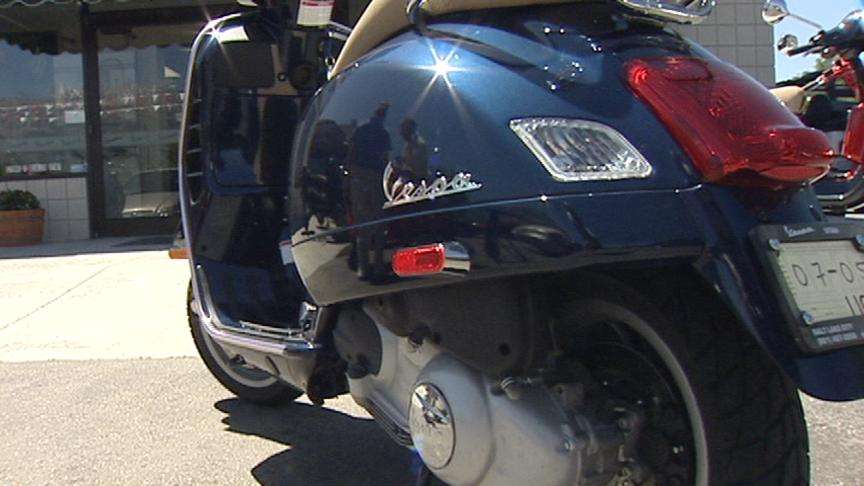 The best thing about these scooters is that they can go right along with traffic and they cost a whole lot less to fill up. Top speeds on the biggest scooters are over 80 MPH. Most people won't take them on the highway, but around town they can just about do anything when the roads aren't snow covered.
It's no wonder why Vespa sales at Barber Brothers in Orem are exceeding anything they've ever seen.
Barber Brothers President Chuck Barber says, "It seems like every time the gas prices hit three dollars a gallon, the doors fly open on the scooter shop. This year we're approximately 80 percent above last year in sales of scooters."
Chuck says most people are buying these as a second or third around-town vehicle and they're not going to the clientele you'd think. "We're not talking about a scooter that goes to a lot of young kids, college students; we're talking about a scooter that goes to a middle-aged guy like me, doctors, lawyers, we've sold them to people from all walks of life."
Morgan says of his scooter, "This will go from 0 to whatever a lot quicker than any other scooter that's out there because of the fuel injection, so every time I sit on it, it's a lot different than anything else because it has that power. It's a lot of fun."
The guys we talked to said they filled up maybe once a week and that's driving a lot. The tanks are around two gallons so you guessed it, once a week, 75 miles to the gallon for $7 a week. Not bad.
For more information on these money-saving devices, check the links on our Web site.
×
Related links
Most recent Utah stories