Estimated read time: 3-4 minutes
This archived news story is available only for your personal, non-commercial use. Information in the story may be outdated or superseded by additional information. Reading or replaying the story in its archived form does not constitute a republication of the story.
John Daley reporting Should the government prevent you from getting some public information that is kept in government records? Utah lawmakers are thinking about doing just that.
Jeff Hunt, Media Attorney: "If you close off that access and make government records more secret, you make government more secret."
A fight is brewing over access to government records, as state lawmakers are re-examining the state's open records law. They're considering whether to prohibit public access to information like addresses, phone numbers, social security numbers and emails.
The state's open records law went into effect 13 years ago. But a lot has changed since then, especially with the internet.
One big question: Should public officials be able to keep emails they send and receive private?
A couple months ago, Salt Lake Mayor Rocky Anderson protested the Iraq War and the Bush Administration during a presidential visit here. The public learned both of his role in organizing it before, and strong citizen reaction on both sides after, through public and media access to emails sent and received by the Mayor.
Now state lawmakers are considering making all correspondence between elected officials and any citizen private, unless one side makes it public. Citing privacy concerns and worries over identity theft, a state legislative task force is debating a ban on public access to a variety of currently public information. This information would including addresses, phone numbers, social security and perhaps emails.
But some industries are raising concerns, like real estate and credit reporting businesses, which rely on those government records.
Likewise, at a forum this weekend, open government advocates and journalists have concerns about changing the government records law known as GRAMA.
Jeff Hunt, Media Attorney "Our feeling is that there are already enough existing protections for social security numbers, home address information, home phone information. That that information is already protected under GRAMA and should be."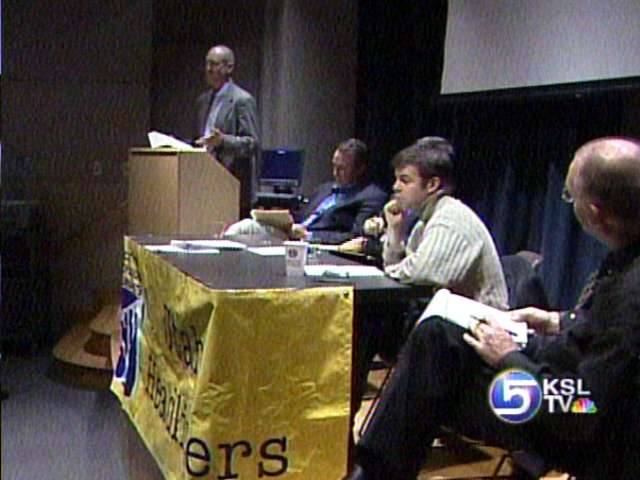 Hunt and the Society of Professional Journalists say governments could use some guidance regarding fees, retrieval time and electronic records, but not big changes.
Jeff Hunt, Media Attorney: "We're recognized in Utah as having one of the most progressive open records statues in the nation. And our concern is to keep it that way, and not go backwards."
Another question: After a New York Times reporter was jailed in the CIA leak case, should Utah have a shield law like 45 other states, to protect reporters from disclosing sources.
Utah's Attorney General says yes.
Mark Shurtleff, (R) Utah Attorney General: "Utah does not have a statute. Neither do we have good state case law. We're one of the few who doesn't have this and you know what, we ought to have something. For law enforcement, we need to know what the rules are. Reporters need to know the rules. Potential informants need to know what the rules are Next Meeting:
Government Records Access and Management Task Force
Tuesday, Nov. 8
1:30 PM
State Capitol/West Building The public has one more chance to weigh in before the next legislative session. The Government Records Access and Management Task Force meets Tuesday November 8th. The committee expects to approve their final draft of three bills on this topic that day. That's their last meeting before the legislative session in January.
×
Most recent Utah stories