Estimated read time: 1-2 minutes
This archived news story is available only for your personal, non-commercial use. Information in the story may be outdated or superseded by additional information. Reading or replaying the story in its archived form does not constitute a republication of the story.
Amanda Butterfield ReportingOver a dozen Medical Offices, all near each other, were burglarized over the weekend and so far police have only one lead in the case.
This Medical Facility has had its share of crime; employees say their mail has been stolen, the restaurant next door has been robbed, and the pharmacy has been held up a few times. But they've never had a burglary like this.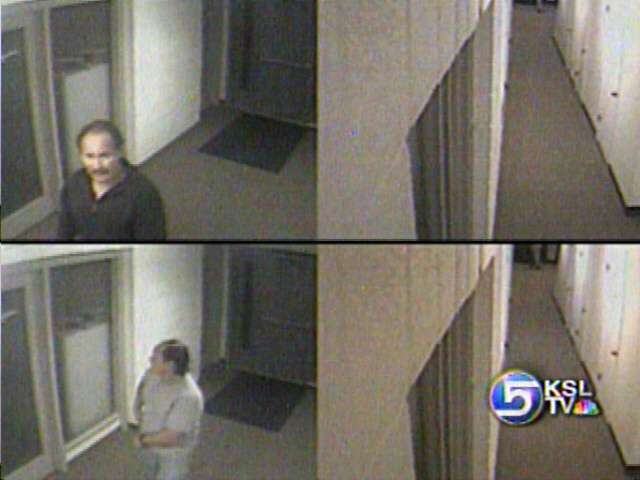 Police suspect two men have robbed over 15 Medical Offices in downtown Salt Lake. But police don't know why they did it.
Det. Dwayne Baird, Salt Lake City Police: "We really don't have any idea what they were interested in; there's not a lot missing."
Both men are about 5' 10" tall, each weighing around 200 pounds, between 35 to 40 years old.
Dwyane Baird: "They look to be older, not young kids."
Police believe they broke into several offices in the Medical Building.
Dwayne Baird: "They used a chisel or screwdriver of some sort to pry the doors open."
Inside one office, the suspects made a mess, but that's about it.
Jolynda Stillen, Pharmacist: "They left without getting anything and left change on desk."
And they completely left Stillens place of work alone, a pharmacy stocked with prescription pills-- The first place you would think thieves would hit, but they didn't, and that's got police wondering.
Dwayne Baird: "Right now there's not a lot obvious to us. It's not like they're packing out computers, or cases of files, or anything else."
If you have any information on these suspects, Salt Lake Police are offering a cash reward if your tip leads to an arrest; you can call 799-INFO.
×
Most recent Utah stories