Estimated read time: 2-3 minutes
This archived news story is available only for your personal, non-commercial use. Information in the story may be outdated or superseded by additional information. Reading or replaying the story in its archived form does not constitute a republication of the story.
Tom Kirkland ReportingNoelle Pikus Pace: "Now with it coming so close and me having this opportunity, I'm getting really excited about it and it really can be a reality."
That was Orem's Noelle Pikus Pace a couple of months ago talking about her dreams of competing in the Winter Olympics in Torino. She's America's number one in the skeleton, but a freak accident in Calgary today shattered those dreams.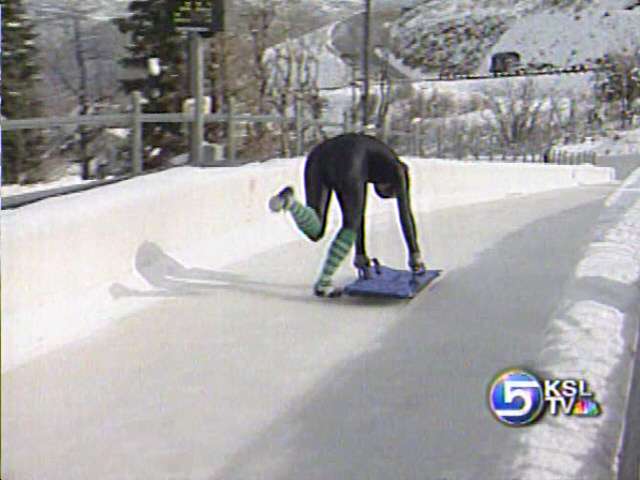 Noelle made a name for herself in track and field, but when her strength and speed were applied to winter sports, she quickly rose to the top. Devastating news out of calgary,114 days before the Torino Winter Olympics.
Orem's Noelle Pikus-Pace, ranked number 1 in the world in the skeleton event, had her leg crushed in an accident at the Calgary Olympic Park. The first American woman to ever win the overall world cup skeleton title suffered a compound fracture of her lower left leg when an American four-man bobsled manned by rookie a driver and rookie brakeman overran their stop area and plowed into Pikus-Pace and two other sliders at about 60 mph.
We caught up with Noelle's mother Patricia and husband Janson at the airport on their way out to see her in Calgary.
Janson Pace, Noelle's Husband: "All I know is there was an accident and she's out for the season it sounds like. So, um, not much we can do about it. We're just gonna go up and support her and be with her."
2002 skeleton gold medalist Tristan Gale and 2002 silver medalist Lee Ann Parsley were with Pikus-Pace when the bobsled barreled into them; those two suffered only minor injuries
Ironically, Noelle Pikus-Pace first came to winter sports as a bobsledder, then switched to skeleton. Now her dreams of competing in the Olympics are dashed, at least for these 2006 winter games. But all things considered, she's lucky to be alive tonight.
×
Most recent Utah stories