Estimated read time: 2-3 minutes
This archived news story is available only for your personal, non-commercial use. Information in the story may be outdated or superseded by additional information. Reading or replaying the story in its archived form does not constitute a republication of the story.
SALT LAKE CITY -- Chevron held an event to thank volunteers who rescued hundreds of birds -- but the discussion is just beginning on what Chevron will have to do and how much they will have to pay for their mistake.
The flow in the creek was increased again Thursday to push residual oil into Chevron's capture booms. Many think the creek may not be completely clean for years.
So if damage is done, how much should they pay?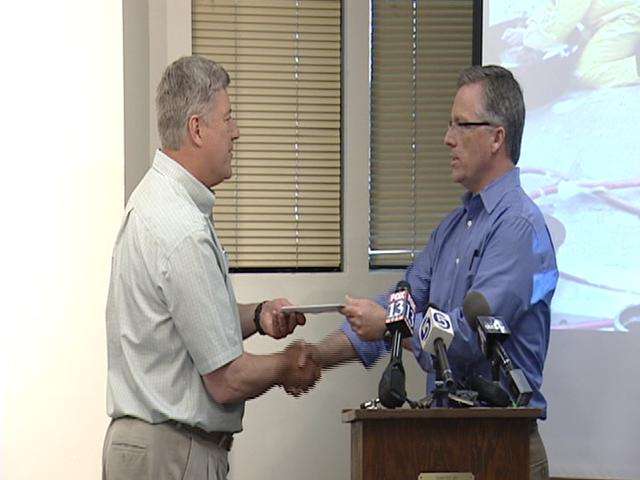 Chevron paid for the catering and live music at the special volunteer thank-you event, and they gave Hogle Zoo a $10,000 check to thank zoo volunteers. On the first weekend of the spill, they rescued 320 ducks and geese, but 20 birds died from the oil spill.
"An event that we very regretfully caused," said Mark Sullivan with Chevron.
Chevron paid the volunteers with a big luncheon, but will the state force Chevron to pay the piper with fines?
As Zach Frankel, director of the Utah Rivers Council explained, "Fines make sure that companies have disincentives to doing this."
State officials have now formally charged the company with several water quality violations. They're also beginning to discuss whether to file a Natural Resource Damage Claim. That would make Chevron pay for damages to water, wildlife and recreation resources. Company critics are calling for big fines, but state regulators aren't committing themselves.
"I have to withhold judgment on that," said Director of the Utah Division of Water Quality Walt Baker. "I'm not going to try them in the paper or in the media until they've had an opportunity to respond to the allegations."
Chevron has 30 days to respond to the state's Notice of Violation. After that, a negotiation process will determine the fines. If the two sides can't agree, it may go to court.
In theory, Chevron could be forced to pay $10,000 a day, even $25,000 a day if it's criminal or gross negligence.
Related
But is that for the one day of discharge, or for 35 days -- and counting -- of the contaminated creek?
"You know, excellent question," Baker said. "The attorneys are going to have to weigh in on that."
The state has also begun discussing a rarely used punishment, a so-called "Natural Resource Damage Claim." If the state pushes for that, they would essentially bill Chevron for the lost value of such resources as water, wildlife and recreation opportunities.
"No question there's been a great insult to the environment and there will be ramifications that may be long-lasting," Baker said.
"Fines help make it real and help make sure that taxpayers have some compensation for these impacts on these eco-systems from the oil spill," Frankel said.
Critics at the Utah Rivers Council worry that government is too cozy with industry and may give Chevron gentle treatment.
Speaking for the state, Baker promises fair punishment and a wide-open process that gives the public a chance to speak its mind.
E-mail: hollenhorst@ksl.com
×
Related stories
Most recent Utah stories