Estimated read time: 1-2 minutes
This archived news story is available only for your personal, non-commercial use. Information in the story may be outdated or superseded by additional information. Reading or replaying the story in its archived form does not constitute a republication of the story.
Sandra Yi ReportingPolice are still looking for two men involved in a scuffle with an off-duty sheriff's deputy. The deputy was working security at Trolley Square.
Police have some good leads in the case and they're investigating those leads. The shooting happened after midnight. The deputy involved was working a second job, providing security at Trolley Square. When someone spotted two car burglars, the deputy went to investigate. The situation ended with a gunshot.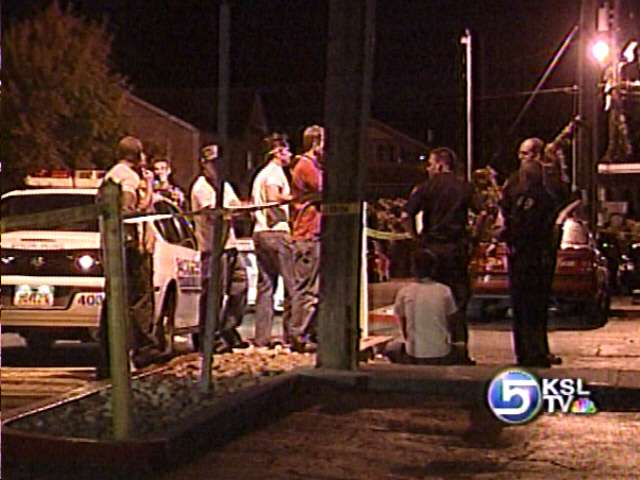 Lindsay Hall, Witness: "About 30 seconds for the commotion, was all it took."
The trouble began when an off-duty deputy caught two suspected car burglars in the act.
Det. Kevin Joiner: "One immediately fled on foot. The second one jumped into a vehicle and the deputy then challenged him with his gun drawn."
Police say the suspect tried to run the deputy down.
Jeffrey Hain, Witness: "We look over and we see that this guy's got his head in the other guy's car and he's driving off."
Police say, during the struggle the suspect tried to wrestle the gun out of the deputy's hand. That's when the gun went off.
Jeffrey Hain: "It was just one shot, but it sounded more like a high-pitch popping."
Lindsay Hall: "I didn't think it was a shot. I just thought it was a firecracker."
Witnesses saw the deputy fall from the car, but the person behind the wheel kept going.
Jeffrey Hain: "You can tell the car was souped up because the engine was way loud."
Police don't believe the suspect was shot during the scuffle. The deputy involved had some bumps and bruises. He's been with the Salt Lake County Sheriff's Office for more than 11 years. He is on administrative leave as the investigating continues. That is routine in an officer-involved shooting like this.
×
Most recent Utah stories