Estimated read time: 5-6 minutes
This archived news story is available only for your personal, non-commercial use. Information in the story may be outdated or superseded by additional information. Reading or replaying the story in its archived form does not constitute a republication of the story.
DRAPER -- The United States Supreme Court has denied condemned killer Ronnie Lee Gardner's appeals. He is set to die by firing squad just after midnight Thursday.
All avenues for appeal exhausted
The Supreme Court turned down three appeals late Thursday, although one of its orders showed that two justices, Stephen Breyer and John Paul Stevens, would have granted Gardner's request for a stay.
"We are disappointed with the court's decisions, declining to hear Mr. Gardner's case," one of his attorneys, Megan Moriarty, said in a statement to The Associated Press. "It's unfair that he will be executed without a full and fair review of his case."
---
This is an unusual, unusual situation. It really rings out for life without possibility of parole sentence, so I'm saddened by the fact that we haven't been able to do that.
–Andrew Parnes, Gardner's attorney
---
According to Utah Department of Corrections spokesman Steve Gehrke, there are no more appeals for this case in the U.S. court system.
After the Washington, D.C.-based Inter-American Commission on Human Rights called for a stay of Gardner's execution Thursday, Gardner's attorneys submitted a second request for a stay to Utah Gov. Gary Herbert. Herbert denied it, saying Gardner has had "the opportunity to have his arguments fully and fairly considered."
Herbert made the initial decision not to intervene with Gardner's execution Thursday afternoon, after receiving the hand-delivered request from Gardner's attorneys.
"Upon careful review, there is nothing in the materials provided this morning that has not already been considered and decided by the Board of Pardons and Parole or numerous courts," Herbert wrote in a letter to Gardner's attorneys. "Mr. Gardner has had a full and fair opportunity to have his case considered by numerous tribunals." [CLICK HERE to read the governor's letter]
"This is an unusual, unusual situation. It really rings out for life without possibility of parole sentence, so I'm saddened by the fact that we haven't been able to do that," Gardner's attorney, Andrew Parnes, said Thursday evening.
Earlier in the day, the 10th Circuit Court of Appeals also denied an appeal from Gardner to stay his execution.
The 10th Circuit Court stated it found no merit in the challenges Gardner posed on his clemency hearing before the Board of Utah Pardons and Parole last week.
Gardner's final hours
Gardner is currently being held in a 10-by-6 foot observation cell. Prison officials say he was in a reflective mood when they moved him there Wednesday night. Before the move, Gardner met with family members.
Related:
Prison officials say Gardner spent the day Thursday reading a spy thriller novel called "Divine Justice" and some personal mail, and watching "The Lord of the Rings" trilogy.
"There have been no significant events aside from sleeping, reading, watching a movie; and I've been told that his mood right now is relaxed," prison spokesman Gehrke told reporters Thursday evening.
Prison officials say Gardner also spent time with a Latter-day Saint bishop, whom he's known for 16 years.
On Tuesday, Gardner ate his last meal of steak, lobster tail, apple pie, ice cream and 7-Up. He chose to spend his last 48 hours in prison fasting but broke the fast Thursday to drink something.
"My reports say that he has had vitamin water and he's had Sprite," Gehrke said.
Prison guards will continue to closely monitor Gardner in the cell until he is moved to the execution chamber shortly after midnight.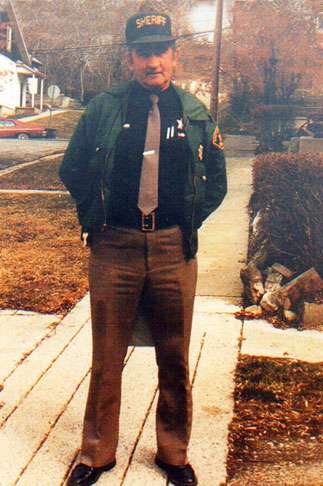 Moments before the execution, Gardner will be strip searched. He'll change into a dark-colored prison jumpsuit and be led to the execution chamber.
Strapped to a metal chair, Gardner will face five anonymous marksmen standing behind a wall 25 feet away. All but one will have live rounds.
Gardner will have a chance to say his last words. A hood will be placed over his head and a target on his heart.
Utah Attorney General Mark Shurtleff says he will use a special phone with a direct line to the state prison to give the green light on the execution.
"There's a direct line to my office, and that's why I'm in touch with my lawyers," Shurtleff explained. "I will give them the go ahead if all legal avenues of appeal have been exhausted."
After that final nod from the attorney general, Gardner will take his last breath.
The widow of Nick Kirk, a bailiff who Gardner shot and injured during his 1984 escape attempt, will see it happen.
She says her husband, who died of a heart attack in 1995, would have wanted to see it too.
"I feel bad for him that he won't wake up another morning, but he brought it on himself; and that was his sentence, so it has to be carried out," Veldean Kirk said.
Utah's history of execution
The chamber Gardner is set to die in has only been used once before for a lethal injection execution in 1999.
Baring any last-minute surprises, Gardner will become the seventh person in Utah put to death since capital punishment was reinstated in 1976. He'll be only the third in the state since then to die by firing squad.
But through Utah's history, the method has not been unusual. Excluding Gardner, 50 people have been executed in Utah since 1847. Forty-one of them were shot.
Prisons in Gunnison and Point of the Mountain will be locked down, possibly through the weekend.
------
Story compiled with information from Sandra Yi, Nkoyo Iyamba, Marc Giauque and The Associated Press.
×
Related Links
Related Stories