Estimated read time: 2-3 minutes
This archived news story is available only for your personal, non-commercial use. Information in the story may be outdated or superseded by additional information. Reading or replaying the story in its archived form does not constitute a republication of the story.
SALT LAKE CITY -- The University of Utah's big move to the Pac-10 from the Mountain West Conference will impact more than the athletic department.
Related
Many say leaving the Mountain West and entering the Pac-10 puts Utah in a different class. Just ask one of the biggest Ute fans around.
"It's a great recognition for our school," said Arnie Ferrin, a Utah Man through and through. He has a wall full of memorabilia to prove it.
Ferrin was an All-American University of Utah basketball player with the famous '44 championship team. After playing in the NBA, he worked as the school's athletic director.
News of his alma mater moving from Mountain West to Pac-10 feels like Christmas Day to Ferrin.
"I think it's a dream. I think it's something that you'd hope for to be able to compete in that kind of a conference," he said. "But I think we deserve it, and I think that the presidents of the Pac-10 are looking at us educationally and looking at what we've done athletically. I don't think it was a hard decision if they needed another school."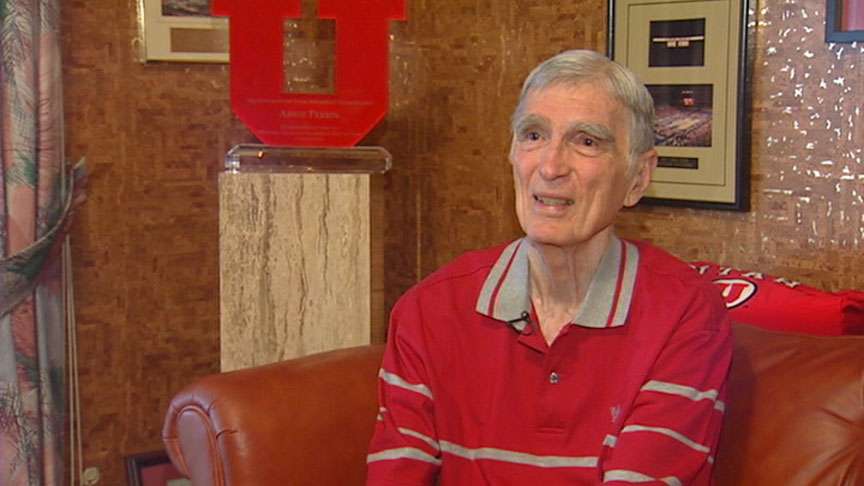 Athletics may have precipitated the invitation from Pac-10, but the entire university will benefit.
Utah will increase its current television revenue from $1.2 million per year to between $8 million - $10 million per year. Even more money could come with a TV contract renegotiation.
That money will attract academic investigators and put the U in a different league both on and off the field.
"It will make us much better everywhere," Ferrin said.
Ute fans are ecstatic. It's even made a few switch sides in one of the hottest rivalries in the country.
"I've had BYU tickets forever but I stopped getting them this year because I'm sick of seeing them play lousy teams all the time," said fan Marc Cauley. "So now we're going to get Utah tickets so we can see them play Pac-10 teams."
How about buying tickets from Arnie Ferrin?
"Maybe I ought to sell my tickets," he said with a laugh. "I've got really good tickets that may be worth a lot more right now."
If only he was serious, we're sure there would be plenty of takers.
"Going to your seats and watching USC or Washington -- we get to see them one time a year. Now we're going to get to see them three or four or five times a year. Great happy day," he said.
KSL contacted the University of Arizona and Arizona State, both Pac-10 schools that went through a similar transition in the late '70s when they left the Western Athletic Conference for the Pac-10. They say it's a positive move for Utah, and they'll feel the impact almost immediately.
E-mail: jstagg@ksl.com
×
Most recent Utah stories