Estimated read time: 2-3 minutes
This archived news story is available only for your personal, non-commercial use. Information in the story may be outdated or superseded by additional information. Reading or replaying the story in its archived form does not constitute a republication of the story.
(Photo courtesy Jeff C. in Lehi)LEHI -- An irrigation canal in Utah County got a lot more water than it could handle Monday. It's now a swift-moving river, and residents in Lehi are bracing themselves for round two of the flooding.
Related:
When Kevin Steele moved into his home two months ago, he thought he relocated to a desert climate.
"[The] irony is we moved here from Houston to get away from hurricanes and all the flood damage there," he said.
He and his wife stayed up most of the night Sunday, alongside their neighbors and volunteers, trying to divert the rising water. But there was only so much sandbagging they could do before they were left to watch the water rush in and scramble to do what they could to minimize the damage.
"It just moved in so fast. I was just trying to move whatever I could, up," Steele said. "We'd pump out as much as we can and wait for more to come in, and wait until it's high enough, 'till we can keep pumping more out."
Fence gates are now flood gates at Lehi Elementary School. The pool of a playground is not what the kids are used to, but they didn't seem to mind it.
"It's really cold!" student Sam Orullian said.
The Lehi Fire Department is doing its best to stay on top of the calls.
"We didn't have any indication that the water was going to be as deep as it was until it actually peaked," said Lehi Fire Battalion Chief Rick Howard.
This is the worst flooding Lehi residents have seen in 20 years, which makes Steele think he's got less than perfect timing.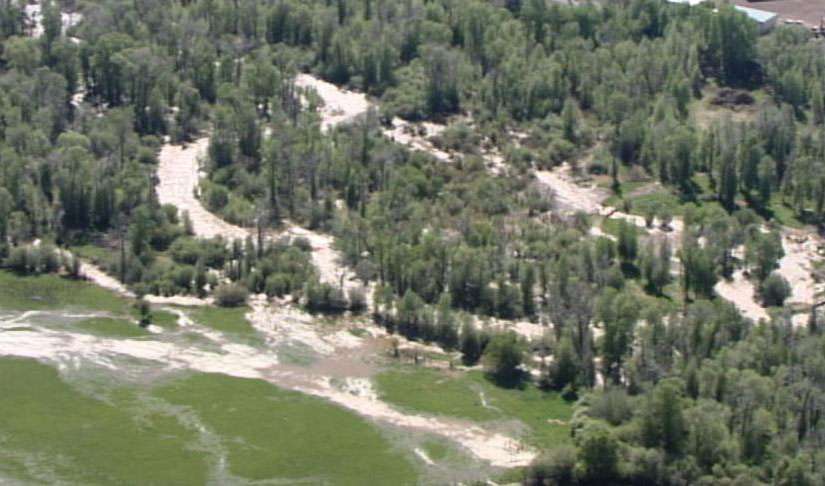 "[It] feels like a run of bad luck or something," he said.
Still, he's hoping luck is on his side Monday night when the water is expected to rise again.
"We'll just have to wait and see what happens tonight," Howard said.
Residents in Lehi have been told conditions will be touch-and-go for up to five days. The city has torn up portions of roads to clear a path for the water. One thing it for sure, it will be a long night of waiting for folks near the canal.
Meanwhile, the Weber River also wreaked havoc through the Kamas Valley in Summit County Monday. As the raging river ran through the communities of Oakley and Peoa, water went over the top of some bridges and ended up in some homes.
Residents mobilized to fill and lay sandbags along the banks to keep the water out of the homes close to the river.
E-mail: jstagg@ksl.com
×
Photos
Most recent Utah stories