Estimated read time: 3-4 minutes
This archived news story is available only for your personal, non-commercial use. Information in the story may be outdated or superseded by additional information. Reading or replaying the story in its archived form does not constitute a republication of the story.
AMERICAN FORK -- It's a big weekend for road construction in Utah, and there are several projects which could cause you delays. The biggest impact may be in Utah County, where there will be two overnight closures for all lanes of I-15 in both directions.
Interstate 15 will be closed in both directions at the American Fork Main Street exit beginning at 10 p.m. Friday. It's one of the last steps in opening up a brand new and different style of freeway interchange.
"We're excited to get this new interchange open and available for people to use. This will be the first diverging diamond interchange of its kind in Utah and probably not the last we are going to see," says Scott Thompson, spokesman for the Utah Department of Transportation.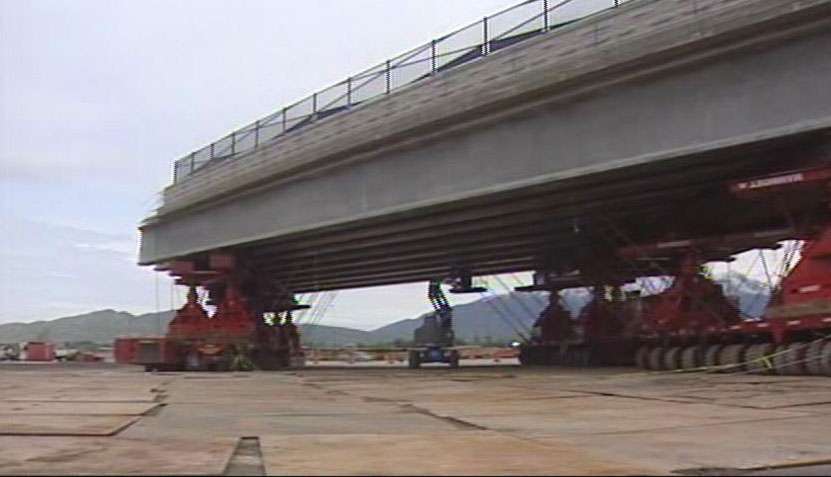 The diverging diamond interchange design has never been installed in Utah before. The interchange will accommodate a lot more drivers, but Thompson says it may take a while for them to get used to where they need to go.
"Drivers will be actually crossing traffic. The bridges will cross each other at either end," he says.
Crews already have one of the bridges in place on the self-propelled modular transports. They will slowly move the bridge section, which weighs 2,200 tons, into place above the freeway.
The bridges are 186 feet long, and crews will move them about two blocks. The process is expected to take about five hours, and this time UDOT has the benefit of already knowing what to expect.
"We moved the other two last fall, and I think we learned some lessons there, a little bit, with that bridge move," Thompson says. "That will hopefully make this go even smoother than they did last fall. Our plan is to get them in place and have traffic open again."
Pioneer Crossing project
Pioneer Crossing, a new, five-lane urban arterial from Redwood Road in Saratoga Springs to 300 East in Lehi.
Seven lanes of Pioneer Crossing from 300 East in Lehi to American Fork Main Street.
A new diverging diamond interchange (DDI) at I-15 and American Fork Main Street, which will replace the existing diamond interchange.
I-15 widened to six lanes (5 plus one Express Lane) in each direction through the interchange (to tie in to the upcoming I-15 widening project).
A new 60-inch water main from Redwood Road in Saratoga Springs to 300 East in Lehi.
After the first bridge is moved into place, traffic should reopen by 6:00 Saturday morning. Crews will then put the moving equipment on the other bridge, and it will be the same process all over again Sunday night beginning at 10:00 until 6:00 Monday morning.
Traffic will be diverted to the on- and off-ramps, or drivers can take a detour through either the Lehi Main Street or 500 East exits in American Fork and follow State Street.
UDOT is even welcoming people who want to watch the process to stop by, if they don't mind being up all night.
"It's a slow-moving process, so it's not something that is going to happen right away; and so if you want to see it in its entirety, you'll have to spend a few hours with us overnight," Thompson says.
UDOT is asking people to park in the nearby park and ride on the west side of the freeway. Crews will help spectators to get into the area on the existing bridge, where they can safely watch.
The Pioneer Crossing project remains on schedule, and UDOT says it should open in the early fall, giving a new and direct route to Redwood Road in Saratoga Springs.
-----
Story compiled with contributions from Sam Penrod, Paul Nelson and Marc Giauque.
---
×
Related links
Related stories
Most recent Utah stories