Estimated read time: 2-3 minutes
This archived news story is available only for your personal, non-commercial use. Information in the story may be outdated or superseded by additional information. Reading or replaying the story in its archived form does not constitute a republication of the story.
PARK CITY -- A Los Angeles woman is suing a Salt Lake County man and Google for over $100,000 after she was hit by a car while walking along a rural highway in Park City. Wednesday, her attorney spoke out defending the lawsuit.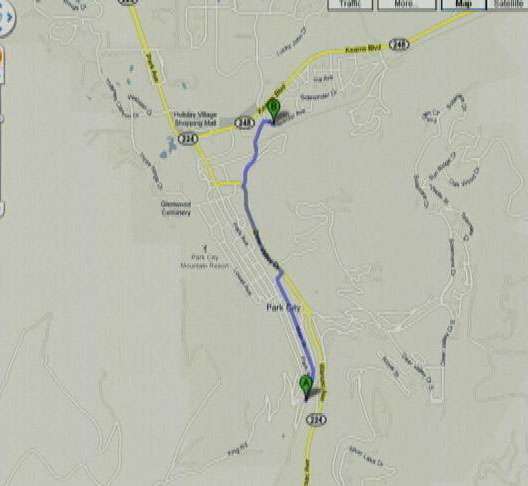 Lauren Rosenberg's attorney, Allen Young, says Rosenberg was visiting Park City last January and was unfamiliar with the area.
As she headed out the door at 6:00 in the morning, Rosenberg pulled up Google Maps on her BlackBerry to get walking directions from Daly Street to a location on Prospector Avenue.
The Google directions led her out onto Deer Valley Drive, which is State Route 224. Young says the rural highway wasn't safe for pedestrians and didn't have sidewalks.
"She understood there was a sidewalk across the street. Google Maps instructed her there; they created a trap for her," Young says.
As Rosenberg crossed the street toward the sidewalk, she was hit by a car. She suffered broken legs, a broken hip and head injuries in the accident and spent six weeks in a Salt Lake City rehabilitation center.
Young says because of her head injuries, Rosenberg doesn't remember if she was looking at or using her phone at the time she was hit, but she was wearing dark-colored clothing.
In addition to the physical injuries, Young says the driver of the car caused Rosenberg to suffer severe emotional and mental trauma.
As for Google, the attorney says the company advertises safe directions and failed to warn Rosenberg of the dangers of the route.
"We think they need to use more reasonable care when they are walking people into a dangerous area. A warning would have been helpful," Young says.
The lawsuit seeks more than $100,000 in damages to cover medical expenses. Young says they will wait for the courts to decide how much fault should be spread among the driver, Google and Rosenberg.
"What the jury would do someday, we believe, is determine that Google had a duty to reasonably lead her to a safe path," Young says.
Google spokeswoman Elaine Filadelfo said the company had not received a copy of the lawsuit and couldn't comment on the case; however, she did dispute Young's claim that Google Maps doesn't warn users that walking routes may be missing sidewalks or pedestrian paths. She said that since they became available on desktop and mobile phones in 2008, the walking directions have displayed a "beta" notice, suggesting users exercise caution.
Young says he hasn't yet had a chance to speak with Google's attorneys. He says the press picked up the story and created a lot of attention before the two sides had a chance to talk.
-----
Story compiled with contributions from Anne Forester and Randall Jeppesen.
×
Related stories
Most recent Utah stories