Estimated read time: 2-3 minutes
This archived news story is available only for your personal, non-commercial use. Information in the story may be outdated or superseded by additional information. Reading or replaying the story in its archived form does not constitute a republication of the story.
SALT LAKE CITY -- More than a year ago, Utah added a new area code for phone numbers, but have you used it? Do you even remember what it is?
It's 385, but many of us have never dialed that area code. We asked a lot of people Wednesday whether they had dialed the number, and only a couple said "yes."
When the Utah Public Service Commission first announced a new 385 area code would overlay the 801 area code in five Wasatch Front counties, the phone rang off the hook with complaints. Julie Orchard with the Utah Public Service Commission says people feared change.
"But, it's just like any other change that occurs," Orchard says. "People got used to it, and now the number of complaints we're receiving has been steadily declining."
The PSC basically ran out of 801 numbers and added 385 for growth. The 435 area code was not affected. But we all had to start dialing 10 digits for all three Utah area codes, even for a call next door.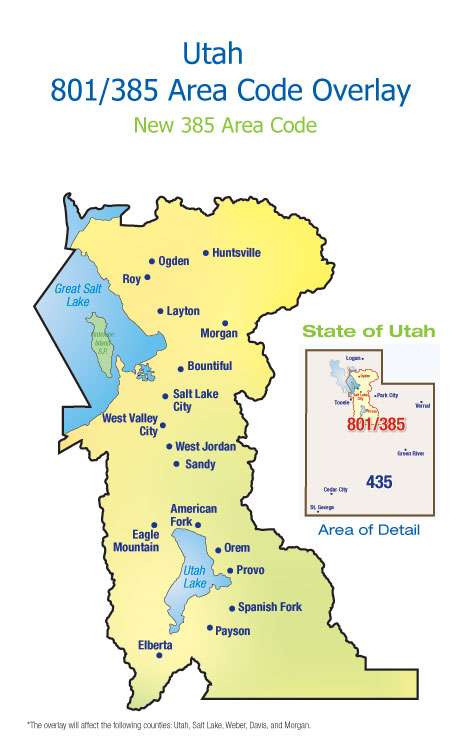 The PSC doesn't know exactly how many 385 numbers are assigned today. The 13 phone companies that operate in Utah buy the numbers in blocks of 10,000. The PSC has sold nine blocks but does not know how many the companies have given out.
The 385 area code has not expanded as quickly as the public service commission expected for several likely reasons. First, when people move in from out of state, they're probably going to bring their cell phone numbers with them. Also, fewer households are adding land lines. In addition, with a down economy, fewer homes, individuals and businesses are adding lines.
The Granite School District and its parents, students and staff use the new area code every day.
"On occasion, we get someone calling in who hasn't talked to the district in over a year, and says, 'I just can't get through to them,'" says Ben Horsley, the district's communications and marketing director.
The district took 4,000 numbers with the 385 area code to enable growth with consecutive numbers. Granite switched last summer and sent letters home with students to make the transition as smooth as possible.
"We just tried to communicate effectively," says Horsley. "For the most part, I think we were pretty successful. We've had pretty minimal complaints."
"As people have gotten used to the change," says Orchard, "it's just automatic that you pick up the phone and dial 10 digits."
Or, hit a one-number preset.
If you get a new number, you won't necessarily get the 385 area code unless you're a company that wants a lot of numbers. The 801 area code numbers turn over and go back into the pool of numbers to be assigned again.
E-mail: jboal@ksl.com
×
Related links
Related stories
Most recent Utah stories