Estimated read time: 2-3 minutes
This archived news story is available only for your personal, non-commercial use. Information in the story may be outdated or superseded by additional information. Reading or replaying the story in its archived form does not constitute a republication of the story.
SALT LAKE CITY -- The number of Utah children injured on school playgrounds every year would fill 100 elementary classrooms. So Tuesday, KSL News followed a playground inspector to learn what to look for to help children Stay Safe.
On this Playground Safety Week in Utah, Salt Lake Valley Health Department inspector Greg Langfeld walked with clipboard in hand at Calvin Smith Elementary School.
"You always want to make sure those are nice and sturdy. You want to look for nuts, bolts, screws that may have popped loose over time," Langfeld explained.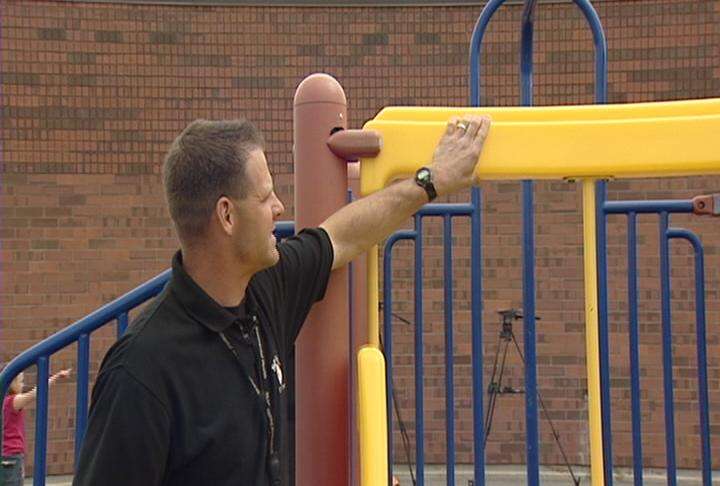 He found a potential trouble spot: vandalism on the slide.
"They get their pinky finger caught in that hole; and then here comes another child behind them, runs into the back of them while their hand is still in there," Langfeld said.
Hel suggested the school fix that with filler and add more gravel under the swings.
From grates that can catch fingers to bars that can hang up on hoodies and backpacks, Langfeld knows what to look for. But he says no measures can protect kids more than a watchful parent.
"Parent supervision is very important. I can't stress that enough," Langfeld said.
Educators, too, play a role with monthly inspections.
"I will go around and wiggle and jump on and go up on the slides and pull on the swings to make sure those are safe for our kids," said Joann Crawley, principal at Calvin Smith Elementary.
Teachers also train kids to report problems and to cover all bases. The state health department hopes we'll extend these safety precautions to swing sets in our backyards.
"You put it together, forget about it. It's out there in the weather, a year or two goes by. Parents do need to play an active role in keeping that stuff maintained, keeping an eye on it," Langfeld said.
Here are some other interesting facts:
2,300 kids are injured every year on school playgrounds
Fifth-graders sustain more injuries than any other group
Falls are the No. 1 cause of injury
E-mail: dwimmer@ksl.com
×
Most recent Utah stories