Estimated read time: 3-4 minutes
This archived news story is available only for your personal, non-commercial use. Information in the story may be outdated or superseded by additional information. Reading or replaying the story in its archived form does not constitute a republication of the story.
NEW HARMONY -- Heavy rain earlier this week has people in southern Utah watching water levels, especially those who live in New Harmony. Wednesday morning, the National Weather Service issued a flash flood watch for the area.
"There was a lot of water," said Julie Woods, the emergency manager for New Harmony. "This is the first thunderstorm we've had since the fire incident."
The "fire incident" is a nice way of talking about the massive and destructive wildfire that burned some homes in New Harmony last summer. That fire also burned vegetation and trees in the mountains above New Harmony, which normally would help keep back water.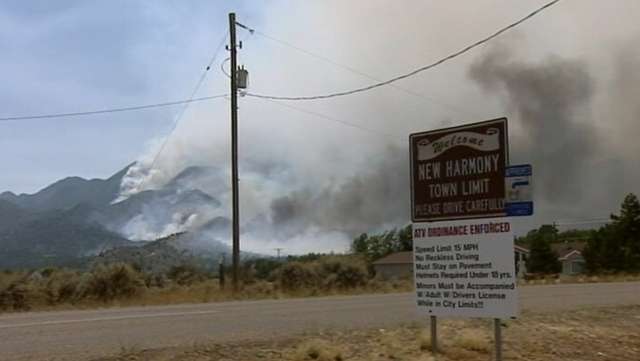 It's similar to the Corner Canyon fire in Draper in the summer of 2008. Wildfires there burned a lot of vegetation. The next year, the vegetation was gone and [ after heavy rain. "The kicker is always a thunderstorm, an intense thunderstorm that produces on average an inch per hour, or a variation of that," said Brian McInerney, a hydrologist with the National Weather Service in Salt Lake City.
"It's down to the bare minimal soil in many places in New Harmony," McInerney continued, "and as a result, there's nothing anchoring the hillside down."
There are places in New Harmony where the water is high and flowing fast.
"We've got a house and a couple of structures that are close to the creek; and if their bridges get backed up, then we can get some flooding into some areas," Woods said.
The good news, though, is that so far no debris has been in the flowing water.
"That could come down and block bridges; and when the water builds up behind it, we can lose some of our bridges and some of our infrastructure," Woods explained.
However, if more thunderstorms start hitting New Harmony, McInerney is concerned the debris could come.
"Conditions are pretty close. If we get the right thunderstorm over the right area, we anticipate a debris flow," he said.
The water itself can be dangerous as well.
"Just keeping people out of the water, keeping people from doing foolish thing, like 'I've got to drive to my house' and 'I've got to drive through this rushing water,' " said Andrew Osborn, with the Harmony Valley Fire District. "We just have concern for the residents who live up near the flooding area."
McInerney says the thunderstorm that was over New Harmony earlier this week didn't really drench the burn scar, and that's the key. He says if lots of rain falls on the burn scar, that's when you can have problems.
"My feeling is if we do get any intense thunderstorm over this burn scar, we will have debris flow. It's really dangerous stuff," he said.
E-mail: acabrero@ksl.com
---

View Larger Map](http://www.ksl.com/?sid=6858216&nid=148the)
×
Related stories
Most recent Utah stories