Estimated read time: 4-5 minutes
This archived news story is available only for your personal, non-commercial use. Information in the story may be outdated or superseded by additional information. Reading or replaying the story in its archived form does not constitute a republication of the story.
Dick Nourse Reporting If you read the Salt Lake Tribune, you know the work of the newspaper's editorial cartoonist, Pat Bagley.
This morning Bagley makes fun of the apparent feud between Mayor Rocky Anderson and Mitt Romney. He's a man who's job is making fun of people in high places.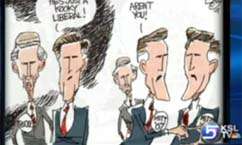 With a few strokes, Bagley bores in on his target.
"When you look at a person's face there's usually some kind of feature -- a particular feature -- that sticks out. And so as a cartoonist you ferret that out, and you exaggerate it," he said.
For 27 years, Utah politicians have picked up their morning newspaper only to find Bagley is poking them with his sharp -- and funny -- pen.
"I'm an equal opportunity abuser," Bagley said.
No doubt there are some who wish Bagley would evaporate.
"I really do love it here. I mean, the physical setting is beautiful, it's gorgeous. The people are fairly interesting, the politics are definitely interesting. You know, why would I move?" Bagley asks.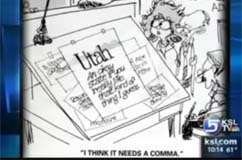 One of Bagley's great targets over the years has been the Utah Legislature.
"They make it easy," he said. "They make it tremendously easy. They just toss it to me underhand, and I hit it out of the park.
"It was disheartening during this last legislative session when you had legislators-- I actually heard them say this-- is that even though the polls show that people wanted things to go a certain way, the response of the legislature was, 'We know better than you. So trust us.' Which is the last thing you should do with a politician."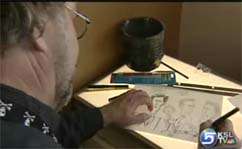 Bagley was born in Salt Lake, raised in California and educated at BYU. His first cartoon was published in the student newspaper and by TIME magazine.
Besides politicians, Bagley's other favorite subject is Utah's unique culture, and the influence of the LDS Church.
"I did a cartoon of Gordon B. Hinckley, and I found out that there are any number of people who are willing to be offended on his behalf. So I got a lot of calls from people who said that it was sacriligious, and it wasn't very respectful. But then I never heard anything directly, but through back channels, that he had seen it and he had kind of liked it, that he thought he looked kind of cute."
We asked Bagley how fast he can get a thought and get the thing in the paper.
"You know, sometimes I'll open the paper and the idea will be right there," he answered. "Other times it takes me quite a while to come up with an idea."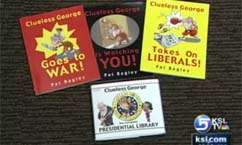 Bagley has had hundreds of ideas since George W. Bush became president, so many that he's published a series of books that are selling like crazy across America.
"Yeah, there's 'Clueless George takes on Liberals' and 'Clueless George, um, is Watching You' is the third one. And we've actually put them altogether in a 'Clueless George Presidential Library,'" Bagley explained.
"I get letters from people telling me it's disrespectful; that it's not respectful of the office; that I don't know what I'm talking about. But on the other hand, I get a lot of letters, a lot of response from people saying that I captured the flavor and tenor of this administration," he said.
"What we've lost sight of, I think, is that the president is the servant of the people, that he ought to respond to the will of the people."
And then there are the Washington lawmakers from Utah.
"Orrin Hatch just really takes the wind out of my sails when he calls and asks for the originals of the cartoons. He really is a good sport when I do cartoons about him," Bagley said.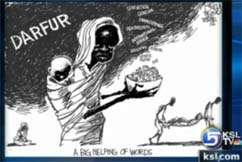 We asked him if he tries to be funny.
"You try to be entertaining. They can be funny, and that helps people to remember the cartoon. Some issues come up and they just are not funny.
"The serious issues are really probably the toughest to do. But there are times when probably the whole community feels a certain kind of pathos, or a certain emotion, and I've got to be sensitive to that and tap into it," he said.
"Sometimes you get a great cartoon that captures the essence of the issue of what's going on, and it's better than an editorial, better than a thousand-word editorial, and you can capture it in a picture," Bagley explained.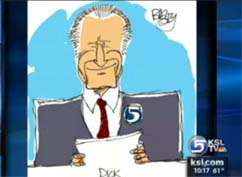 ×
Most recent Utah stories