Estimated read time: 3-4 minutes
This archived news story is available only for your personal, non-commercial use. Information in the story may be outdated or superseded by additional information. Reading or replaying the story in its archived form does not constitute a republication of the story.
SALT LAKE CITY -- Just when shop owners at Salt Lake City's Main Library were getting things cleaned up for a second time, they were hit by a burglar again. This makes the third time in less than a week.
Because the break-ins are so similar, police believe they were carried out by the same burglar each time. That makes store owners furious.
"When I found out we had been hit again, I was angry. I was pretty upset," said Bob Frendt, owner of the Salt Lake Citizen.
---
"It's got to be frustrating.These are small business owners, and I can't even imagine the cost of damage." Sgt. Robin Snyder, Salt Lake City Police Dept.
---
Frendt was already operating his shop with one door after a burglar broke in on Sunday. Now he has two doors to repair.
"Both of our front doors [are] glass, and they've both been broken," he said.
Unfortunately, Frendt has company. All but one of the Salt Lake City Library's shops have been broken into by who police say believe is the same burglar -- three times in four days.
"It's got to be frustrating. These are small business owners, and I can't even imagine the cost of damage," said Salt Lake City police Sgt. Robin Snyder.
Police say the burglar forced his way in through the east-side doors, then smashed the glass to break into the shops. Not once did he try to enter the actual library -- just the stores in the entryway, and an ATM, which police say he left beyond repair.
Each time, the damage he caused added up to a lot more than the amount of money he was able to steal.
"It looks like they're going for the money, but there's not much money that's been taken," Snyder said. "But there's been a lot of damage to each one of those businesses."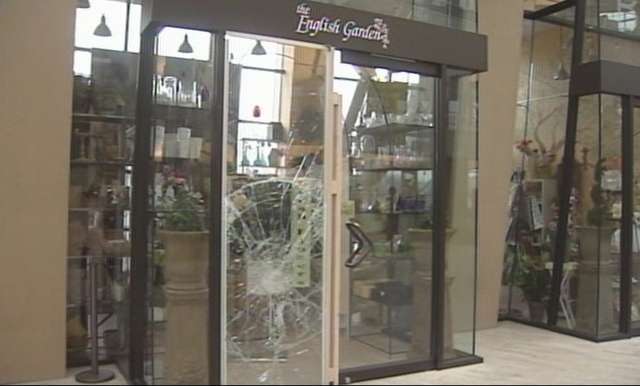 In Frendt's case, all the burglar got was just a couple of bucks in change from the till, but he left thousands of dollars in damage behind.
"It will be a week or two until we get our new doors put back together," he said. "We're a pretty tight community here in the library and everyone has been frustrated over this last week and this morning. Everyone is exasperated. We're beyond ourselves, we don't know what to do."
Word of the break-ins has spread to nearby businesses, but the owner of Caffe d'bolla, a coffee shop across the street, says he's not too worried about it.
Owner John Piquet said, "The police are really close. It's a pretty well-traveled area, and you really can't run your business being concerned about those kind of things."
People who live and work near the library also say safety isn't a concern for them.
Kaidy Dixon said, "I work just across the street and I usually feel pretty safe coming here, even when it's dark."
Still, they hope police catch the burglar soon.
"It's just going to be a lot better for the community," Piquet said. "People shouldn't really be out breaking in businesses."
Police say they are reviewing surveillance video of the break-ins. They say the video shows a man, alone, all dressed in black, wearing a beanie. The library is upping their security to 24 hours a day.
------
Story compiled with contributions from Jennifer Stagg and Sandra Yi.
×
Related stories
Most recent Utah stories