Estimated read time: 2-3 minutes
This archived news story is available only for your personal, non-commercial use. Information in the story may be outdated or superseded by additional information. Reading or replaying the story in its archived form does not constitute a republication of the story.
Coco Warner ReportingIf refugees ever come to Utah they will call Camp Williams home. The facility was designed to house and train soldiers, but it's ready for a new mission.
Many Utahns were hoping to see a planes bring back refugees tonight. That wasn't the case, but Bluffdale's Camp Williams is prepared to take in refugees from Hurricane Katrina as long as necessary.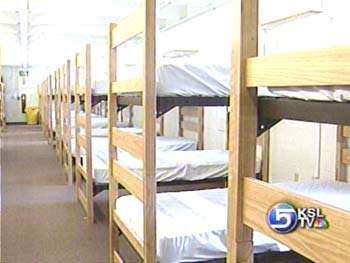 It was very quiet at Camp Williams today, almost a ghost town. Soon though, as many as 1000 people from the Gulf Coast will call this base their home, to escape ghosts that haunt them from Hurricane Katrina.
Col. Scott Olson, Camp Williams: "A safe haven where they can recoup some of the stability they need to plan the rest of their lives."
The military prepared four dorms for housing and three mess halls. The Red Cross will staff all facilities and offer medical care. If any refugee families struggle with intellectual disabilities a group called the Arc of Utah is also looking to provide housing in Utah.
Deborah Bowman, Arc of Utah: "A lot of them need medications regularly or equipment that helps them function regularly and so their needs are maybe a little more intense maybe than some of the other folks that are affected by the hurricane."
And after seeing all of the destruction in New Orleans, the students and faculty here at Westminster College decided they wanted to do something to help.
Joel Bauman, Westminster College: "We decided to waive all sorts of paper work requirements like an application fee and a tuition deposit and try and do what we can to allow students to enroll and not have their education interrupted."
So whether it's educational concerns or simply having a place to stay, the state is on stand-by, ready and waiting.
Col. Scott Olson, Camp Williams: "Could this last a long time? It might. And we would get better at it as we go. But the goal is to restore them to a normal life."
×
Most recent Utah stories