Estimated read time: 4-5 minutes
This archived news story is available only for your personal, non-commercial use. Information in the story may be outdated or superseded by additional information. Reading or replaying the story in its archived form does not constitute a republication of the story.
BRIGHAM CITY -- In front of a packed crowd Wednesday night, the Box Elder County School Board voted against closing a popular elementary school to save money.
The meeting, held at Adele C. Young Intermediate School, was well attended and at times heated. The board was split down the center, but ultimately swayed 4 to 3 against closing Bunderson Elementary School, at least for now.
Board members went back and forth with five different motions, but after 2 1/2 hours, they decided they need more time to review the budget before making a final decision.
The district is facing anywhere from a $3 million to $6 million shortfall. Closing one of Brigham City's five elementary schools could save roughly $250,000 every year.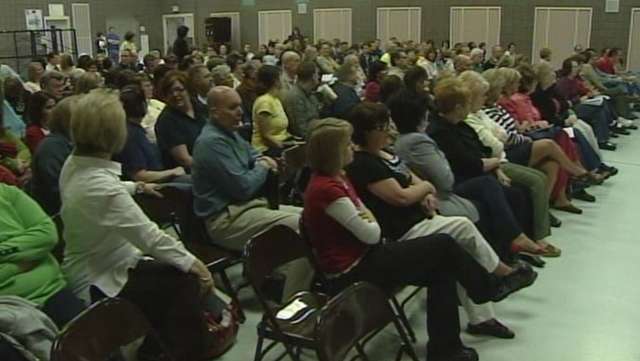 Supporters from both sides filled the auditorium and both sides left fairly uncertain of what the board will ultimately decide.
"They've heard our voices, they understand how we feel about this and we have had a petition," said Bunderson supporter Camilla Packer. "They've listened to us, and I'm grateful for that, and I have complete trust in them."
Others weren't so happy about the outcome.
"I'm very frustrated with the meeting tonight," said Lauri Pence. "I think our board members need to look at Box Elder district as a county and what is good for all kids instead of looking at a small portion and directing to keep that Bunderson area open."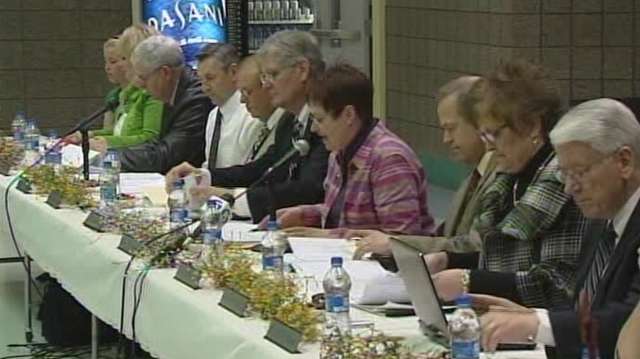 The board hasn't ruled out closing a school, or Bunderson for that matter. It says it needs more time to look at every other possible solution.
"We have enough vacant classrooms to house a whole school," said Box Elder schools Superintendent Steve Laing. "I understand the connection to your local school. Unfortunately, the budget crisis we are facing is not quite as compassionate about our emotions."
Bunderson Elementary opened in 1955. Today, there are more than 400 students who go to classes there.
---
We have enough vacant classrooms to house a whole school. I understand the connection to your local school. Unfortunately, the budget crisis we are facing is not quite as compassionate about our emotions.
–Superintendent Steve Laing
---
Students also walk to school; there are no buses. If Bunderson is closed, students would have to walk to another school.
"The bulk of them would be able to walk, I believe. We might also have to bus a few of them," said Laing.
"We have a street just two streets over, 2nd South, which is a very busy street. I would have to take my kids to school every day and pick them up every day because I don't want them walking on that busy street," said Laing.
Caught in the middle of the debate is Scott Hunsaker. He is the principal of Bunderson Elementary School. He knows how important the school is to the neighborhood, but he also knows the budget.
"If they don't save money by closing a school, then they're going to have to take money from someplace else, and that could be painful too," said Hunsaker.
That could mean job cuts.
If Bunderson is closed, its teachers would keep their jobs at other schools.
"We had huge cuts last year, and then we're facing huge cuts again this year," said Hunsaker.
Still, he would love for Bunderson to be open next school year.
"The school district is in a tight, hard spot to be in," said Hunsaker, "but to see a school that has been the central focus of the neighborhood for so long, it's really hard to imagine it being closed and hurtful for many who live here."
Laing says Bunderson Elementary is the oldest school of the five elementary schools in Brigham City, and if it's closed, it would impact the least number of available classrooms districtwide.
Still, he agrees any decision is tough.
"Oh, it's brutal," said Laing, "I live in Brigham City, and some of these people who will be affected are my neighbors. They're not very excited about that, and I don't blame them."
"They say we need to leave emotion out of this and make this a non-emotional decision," said Brandy Davies, who used to attend Bunderson and now has three of her own children who go to school there, "but how can you when you're dealing with the heartbeat of your community?"
The other schools on the chopping block are Mountain View and Foothill.
Supporters on both sides left Wednesday's meeting frustrated. They had hoped for some sort of decision.
The board will meet again on April 7 to vote again.
------
Story compiled with contributions from Jennifer Stagg and Alex Cabrero.

View [Brigham City Elementary Schools](http://maps.google.com/maps/ms?ie=UTF8&hl=en&t=h&msa=0&msid=109946297248566149163.00048292f9d20f14a0f41&ll=41.510763,-112.012997&spn=0.044991,0.072956&z=13&iwloc=00048293094eed805c5e4&source=embed) in a larger map
×
Related links
Most recent Utah stories