Estimated read time: 4-5 minutes
This archived news story is available only for your personal, non-commercial use. Information in the story may be outdated or superseded by additional information. Reading or replaying the story in its archived form does not constitute a republication of the story.
Ashley Hayes & John Daley Reporting Just when you thought it was over, the saga over whether Real Salt Lake will get to build its soccer stadium continues.
A handful of Utahns have filed a referendum to block legislation that allows the team to use taxpayer money. Today, the organization "Get Real Utah" is starting a petition drive to let voters decide where the money should go.
A new poll indicates this group could pull it off. The Dan Jones poll* conducted for KSL-TV and the Deseret Morning News shows most Salt Lake County residents oppose the use of hotel tax dollars for the stadium. They say they would sign a petition to give the decision to voters by placing the issue on the ballot.
Sign the Petition?
Definitely Would 41%
Probably Would 24%
Probably Would Not 11%
Definitely Would Not 21%
Don't Know 4%
Sixty-five percent say they would sign. Thirty-two percent say they would not, and four percent didn't know.
Did you favor or oppose transient room tax dollars going to build the garage and buy land for a soccer stadium in Sandy?
Strongly Favor 11%
Somewhat Favor 21%
Somewhat Oppose 8%
Strongly Oppose 55%
Don't Know 6%
When asked if a hotel tax should pay for a parking garage and stadium land, 55 percent of those polled strongly disagreed. Only 11 percent were strongly in favor of the tax.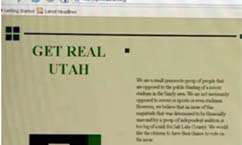 The group spearheading the movement to put the $35 million stadium deal on the ballot has named itself "Get Real Utah." The group has less than a month to gather the needed 92,000 signatures to place the issues on the ballot. It hasn't been done since the '70s.
Kirk Jowers, director, Hinckley Institute of Politics: "It becomes a very difficult process. You need a lot of troops on the ground to actually do it. Or you need a lot of money to be able to pay people to do it."
Brad Swedlund, referendum drive organizer, March 6: "It's a huge hurdle. But you know, 70 percent of the people, the way I understand, are against public funding of the stadium."
If "Get Real Utah" collects enough signatures, the Governor decides when the vote takes place-- either the November 2008 election or a special election sometime this year.
A last-minute save by the governor and lawmakers pushed legislation to OK $35 million in taxpayer money after Salt Lake County said no. As of right now, the $35 million is scheduled to go through to Real April 30. That's just days after the 92,000 signatures for the petition are due.
In our poll, 63 percent of those surveyed believe Governor Huntsman and the legislature shouldn't have passed the legislation at all. A spokesman for Governor Huntsman told the Deseret Morning News the governor "feels that future and current generations will long benefit from the amenity of a soccer stadium that's entirely paid for by private dollars."
Larue Urquhart, West Jordan Resident: "They're not listening to their constituents. They're not paying attention to what we as the people want. I think this is the best way to go about it. Letting them know, get our voice heard saying hey we want something different. We want you to start listening to us. Put it on the ballot and let the public vote."
Matt Arnett, South Jordan Resident: "I just really think that the location that they've chosen is not as appopriate as a couple of the alternatives that came out a couple of months ago."
The nursery's owner says he's a lifelong Republican but is exasperated with GOP leaders, notably Speaker Greg Curtis and Sandy Mayor Tom Dolan who pushed the plan.
We requested an interview with the mayor or someone with Sandy City. They declined and referred us to a newspaper article from over the weekend.
In that Deseret Morning News article the Mayor says: "I don't think people know the full facts about it. You can poll forever, and I don't think people will understand it."
Our calls to Real Salt Lake and to Utah House Speaker Greg Curtis, perhaps the key figure behind the RSL legislation on Capitol Hill, were not returned.
There are several petition signing events throughout the week. Check the link above for information about that.
*The poll was conducted March 7th and 8h, and has a margin of error or 7.7 percent.
×
Related links
Most recent Utah stories