Estimated read time: 2-3 minutes
This archived news story is available only for your personal, non-commercial use. Information in the story may be outdated or superseded by additional information. Reading or replaying the story in its archived form does not constitute a republication of the story.
LAYTON -- A community pulled together Saturday to bid a sad farewell to two little girls who died from complications associated with exposure to a toxic pesticide.
More than 500 people came to the Layton West LDS Stake Center for the funeral of 4-year-old Rebecca Toone and her 15-month-old sister, Rachel. Relatives remembered the pair as "sweet girls" and "beams of light" who were loved beyond words.
The funeral service was filled with music, fond remembrances and a clear message: "We stand by you."
"I think the advice I'd give to all of us is to hold our kids a little tighter, be kinder, more gentle," said Michael Thompson, the LDS stake president of the Layton West Stake.
Rebecca and Rachel Toone were remembered as sweet girls who were full of life. Relatives recalled 4-year-old Rebecca's caring heart, her love of reading and passion for handmade cards expressing her love. Fifteen-month-old Rachel had a sunny nature, exuberant smile, beautiful eyes and an unusual love of rock and roll.
The steady theme of the service was that the family would be together again in heaven to spend eternity.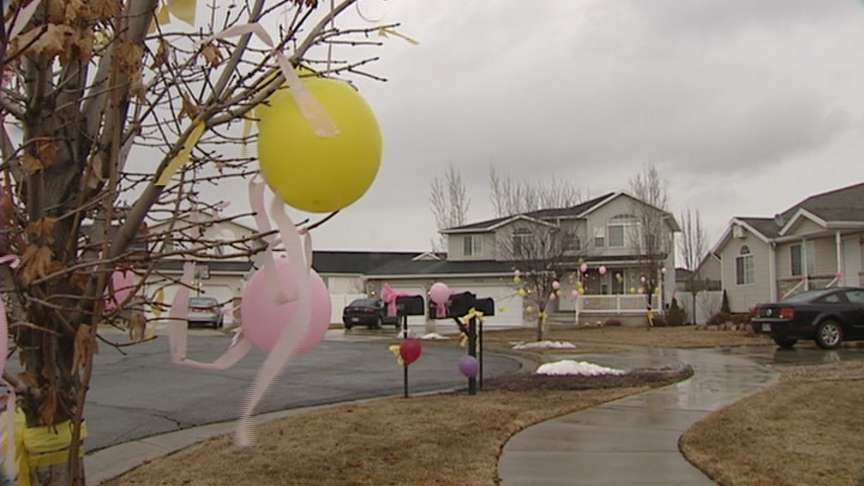 "Although this is a tragedy, I'm just amazed at their great faith and I come away from it feeling I need to do better because of who they are," Thompson said. "I love this family, and so does this community, so it's been a blessing."
The girls died last week, Rebecca on Feb. 6 and Rachel on Feb. 9. Authorities suspect the cause was poisoning from phosphine gas after an exterminator placed Fumitoxin pellets in burrow holes in the family's lawn in an attempt to kill some rodents.
On Thursday, their father Nathan Toone thanked the community for its support.
"Throughout this tragedy, the only thing that has surpassed our sorrow has been the tremendous outpouring of love from family, friends and community members whose hearts have broken with ours," he said.
Neighbors went to great lengths to show their support for the Toone family with double ribbons, one for each girl, at the funeral service. Neighbors also displayed ribbons and balloons on fences, houses and trees throughout their neighborhood.
"It's a tragedy that's brought a family closer together, and a neighborhood, and a community," Thompson said.
Prosecutors in Layton have yet to determine if criminal charges will be filed against Bugman Pest and Lawn and the technician who planted Fumitoxin pellets in the Toone's yard.
Last week, a prosecutor said the exterminators could face charges of manslaughter or negligent homicide, depending on toxicology results.
E-mail: jdaley@ksl.com
×
Photos
Related stories
Most recent Utah stories