Estimated read time: 2-3 minutes
This archived news story is available only for your personal, non-commercial use. Information in the story may be outdated or superseded by additional information. Reading or replaying the story in its archived form does not constitute a republication of the story.
SALT LAKE CITY -- The anti-federal government theme keeps popping up at the State Capitol this year. But Thursday, even as lawmakers stepped onto new ground, a few people expressed concern about one of the battles in particular: a bill to reject any federal health care reform.
People without health insurance don't want the state to say no to a federal program that will give them health insurance; but to conservative lawmakers, the big picture is federal intrusion on the state's rights in health care, land use and more.
Two bills are the latest anti-federal government efforts to emerge. House Bill 323 and House Bill 143 challenge the federal government's hold on the 60 percent of land in Utah.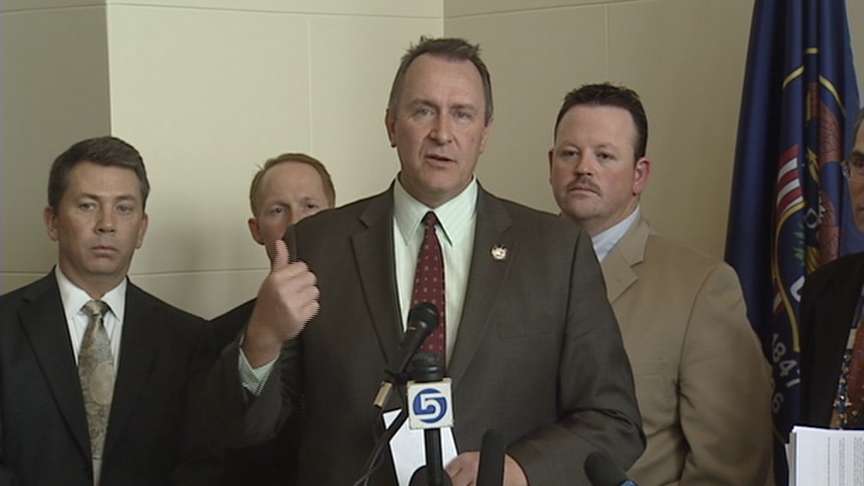 Some lawmakers say certain sections of federal school trust land should be under state control. The state could then allow development, recreation, drilling or mining. It could generate millions for education budget shortfalls.
"We believe that we know best how to use Utah," said Rep. Christopher Herrod, R-Provo. "We believe we have it for multiple uses, for recreation, but also use the mineral leases and natural resources that are there."
There is certainly a U.S. Supreme Court case tagged with these bills. The legal cost is worth it, according to the attorney general.
Related:
"Someone needs to step in and take the fight. When these legislators say they're willing for us to go forward, we have the ability, we have the expertise, we have the time. It's what we do in our office with our lawyers," Attorney General Mark Shurtleff said.
Lawmakers also have other anti-federal government bills. One says that guns made and kept in Utah would be exempt from federal regulations. Another would require lawmakers and the governor to sign off on federal health care reform.
At the Capitol Thursday, Utahns who are without insurance urged caution.
"I want him to remember the people his bill is going to affect; and it's going to affect thousands and thousands of Utahns," said Steve Hatch, with the Hatch Family Chocolate Company.
Nurse practitioner Susan Chaffon said, "I have patients that are dying every day because they can't access health care now."
But a vocal group of conservative lawmakers are plowing ahead.
"The states have been the lapdog of the federal government forever. So, us stepping on a few toes right now, it's something I'm proud to do," said Rep. Carl Wimmer, R-Herriman.
Specifics of taking over school trust lands and rejecting health care reform aside, Utah's elected officials in Washington seem to agree with the overall sentiment about federal government control. It is a debate that is just warming up.
E-mail: rpiatt@ksl.com
×
Related links
Most recent Utah stories